When:
December 21, 2017 @ 7:00 pm – 9:00 pm
2017-12-21T19:00:00-07:00
2017-12-21T21:00:00-07:00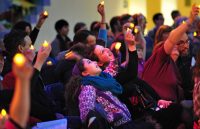 30th Anniversary! Winter Solstice at City Hall
Join us for our 30th Annual Winter Solstice Celebration (our 10th at City Hall!) and help generate the communal warmth & light required to brilliantly call back the Sun. Music & drama … meaning & magic … a festive earth centered event to celebrate the turning wheel of the year.
Service from 7-8pm. Refreshments to follow.
Service Leader: Reverend Anne Barker
Musicians:  Westwood's Winter Solstice Choir (Harmonia & special friends), led by Rebecca Patterson & accompanied Sheila Killoran … PLUS guest musician Gordon Ritchie on the harp
ALL AGES