What can one person do? Add your voice!
Every year around International Human Rights Day on December 10th, hundreds of thousands of people around the world send a letter or an e-mail on behalf of someone they've never met. 
This year, all 10 global cases will focus on young people under the age of 25 who are a leading force for change.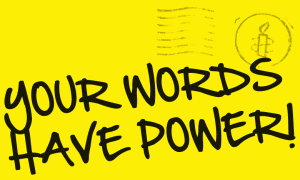 Please join us on Sunday, 8th December for the annual Amnesty International Write for Rights campaign. It will take place following the service.
Bring your pot-luck lunch downstairs and write some letters (or just sign the form letters provided.)
One of the featured cases is that of the continued pollution at Grassy Narrows First Nation.
Arm your pens and get writing for a good cause. We will mail the letters for you again this year. Join this world wide drive against injustice and impunity!
This event sponsored by the Westwood Unitarian Congregation Social Justice Committee.
Contact: sjc@westwoodunitarian.ca