Wondering how to hold an event at Westwood?
**  Please note that the building is closed to all activities until further notice  **
Planning a wedding, memorial service, child dedication or other ceremony?
Want to book a one-time or recurring event: workshop, class, performance, meeting, social event etc.?
Here's your guide – select the item from the Bookings & Ceremonies menu below that best matches your needs.
Still confused? Our administrator can help!
Voicemail: 780-434-5819
Email: info@westwoodunitarian.ca 
Ceremonies
The Westwood Unitarian Congregation offers the services of our Minister and licensed* Lay Chaplains to the community of Edmonton and surrounding area. Our services are open to people of any or no faith affiliation, of any race, gender or sexual orientation. We offer memorable services conducted in our Sanctuary or at a location of your choice.
*Officially licensed by the Government of Alberta to officiate at weddings
Our Lay Chaplains officiate at weddings, memorial services and funerals, child naming and dedications, and other significant life passages.
Westwood's Lay Chaplains are happy to perform any respectful rite of passage ceremony. In developing rites of passage ceremonies, Unitarian Universalist practice starts from human needs rather than fixed religious ideas. The ceremonies which result are often, in their preparation and enactment, deeply spiritual and memorable, being firmly based on the integrity and compassion of the Chaplain and the spirituality of those for whom the service is conducted.
For more information, please download and read our Ceremonies and Rites of Passage brochure (pdf). Click here to view our fee schedule.
If you believe one of our Lay Chaplains may be the best person to provide for your needs on one of these highly important occasions, please phone (780) 434- 5819 laychaplain@westwoodunitarian.ca
If you are interested in renting Westwood building for your special event or ceremony, contact our administrator at (780) 434-5819.
Minister
Westwood's minister, Reverend Anne Barker, also conducts weddings and other ceremonies. Please contact her for further information and availability.
Email: anne (at) westwoodunitarian (dot) ca
Voicemail: (780) 434-5819 (extension 1)
Facility Rentals
Our church is a warm and bright building with great acoustics located in the quiet Parkallen neighbourhood south of the main University of Alberta campus. Capacity is 100 sitting people.
It is used by the community for activities such as dancing, yoga, music workshops.
It can also be rented for events such as child dedications, memorial services, marriage ceremonies, and even birthday parties.
A Westwood Lay Chaplain is also available to officiate ceremonies. Click here for information about ceremonies conducted by Lay Chaplains.
Contact Westwood's administrator for building rental information at info@westwoodunitarian.ca
Check the Calendar for space availability.
Meetings & Events Planning
Is your committee planning a meeting, workshop, or other event at Westwood? Are you a member planning to use the building for an event? Remember – it's not booked until you get the administrator's confirmation!
Step-by-step Guide:
1. Check the Calendar
Check the Westwood Calendar for:
Building Bookings/Rental for building availability (brown entries in the calendar)
Events, Meetings, and Sunday Services to ensure your event doesn't conflict with another Westwood activity
2. Book a Westwood space (sanctuary, downstairs, or whole building)
Contact the administrator at:
Voicemail: 780-434-5819
Email: info (at) westwoodunitarian (dot) ca
3. Arrange For Child Care
Westwood congregational meetings and many workshops and events include child care, arranged for by the event planners and paid by Westwood. Contact (pending) for assistance booking child care providers.
4. Publicize your event by emailing event details to events (at) westwoodunitarian (dot) ca.
See Communications for details.
5. Check before leaving the building
Building Checklist
Westwood Events
Westwood Scent Policy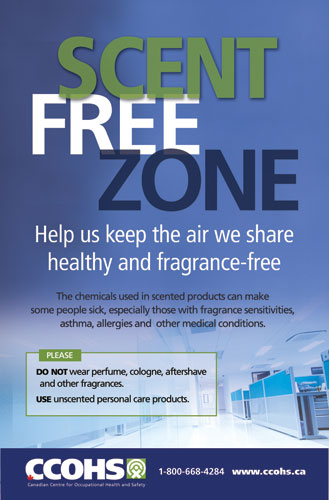 Scented products such as hair spray, perfume, and deodorant can trigger reactions such as respiratory distress, headaches, and migraines.
Out of consideration for the health of others, please avoid using scented products when attending events in the Westwood Congregation building.
In consideration of others, PLEASE, no perfumes or scented products.
Thank you!
** Poster credit Canadian Centre for Occupational Health and Safety
For a better understanding of this important issue visit: