Lay Chaplain Services
The Westwood Unitarian Congregation offers the services of our Minister and licensed* Lay Chaplains to the community of Edmonton and surrounding area. Our services are open to people of any or no faith affiliation, of any race, gender or sexual orientation.  We offer memorable services conducted in our Sanctuary or at a location of your choice. 
*Officially licensed by the Government of Alberta to officiate at weddings
Our Lay Chaplains officiate at weddings, memorial services and funerals, child naming and dedications, and other significant life passages.
Westwood's Lay Chaplains are happy to perform any respectful rite of passage ceremony. In developing rites of passage ceremonies, Unitarian Universalist practice starts from human needs rather than fixed religious ideas. The ceremonies which result are often, in their preparation and enactment, deeply spiritual and memorable, being firmly based on the integrity and compassion of the Chaplain and the spirituality of those for whom the service is conducted.
For more information, please download and read our Ceremonies and Rites of Passage brochure (pdf). Click here to view our fee schedule.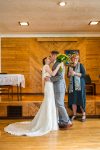 If you believe one of our Lay Chaplains may be the best person to provide for your needs on one of these highly important occasions, please phone (780) 434-5819laychaplain@westwoodunitarian.ca
or email
If you are interested in renting Westwood building for your special event or ceremony, contact our administrator at (780) 434-5819
.
Minister
Westwood's minister, Reverend Anne Barker, also conducts weddings and other ceremonies. Please contact her for further information and availability.
Email: anne (at) westwoodunitarian (dot) ca
Voicemail: (780) 434-5819 (extension 1)