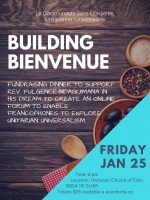 Delicious African inspired food, entertainment, and friends : don't miss out!
Get your tickets for Building Bienvenue Friday January 25. Doors open at 5:30 pm. Martin Kerr will perform at 6 pm. Dinner to follow Martin's set. After Dinner entertainment: Harmonia, Gordon Ritchie (harp), Chorealis.
Rev. Fulgence Ndagijimana, a Unitarian Universalist minister and refugee from Burundi, will be back to talk about his experience as a UU francophone in exile, and his passionate desire to make the transformative messages of Unitarian Universalism available to French speakers throughout the world..
Imagine an online community that would offer the world's 220 million Francophones an opportunity to explore Unitarian Universalism. Rev. Fulgence Ndagijimana of the Saskatoon Unitarians had that very thought and is working to transform it from a dream into a reality. Inspired in part by the long-running online UU community Church of the Larger Fellowship, Ndagijimana hopes to create a similar service for Francophone Unitarians in Saskatoon, Canada, and around the world. Read his recent blog post to learn more about his vision for this project, which he calls "La Communauté Sans Frontières, Unitarienne /Universaliste".
Bring your friends, your questions, and a hearty appetite.
This event is jointly sponsored by Westwood Unitarian Congregation and the Unitarian Church of Edmonton and will be held at UCE, 10804-119 Street NW Edmonton.
Ticket sales close January 23, 2019.
$35 includes dinner
Vegan & Gluten Free Options Available
Cash Bar
Rev. Fulgence will also be the speaker at Westwood Unitarian Congregation on Sunday January 27, 10:30 am. All welcome.