Stewardship at Westwood –"We make a living by what we get; we make a life by what we give."
As Westwood's Treasurer this year, it is my task to explain the financial side of this year's Stewardship Campaign.
Where are our financial resources coming from in the 2018/2019 year?
Westwood receives funds from rentals, interest, and fundraising (this year, we held a FUNdraiser on February 23 and are also using funds saved from last year's casino) but, by far, the most important source of funding for Westwood is the contributions from its members and friends. Westwood aims to be, and is, a diverse community in many ways.  You will often hear a service leader say something like:  "We welcome all persons of goodwill whatever their culture, colour, class, religion, gender, wealth, or the direction of their affections."  We are not all the same and this is appropriately reflected in our giving.  The graphic illustration shows the vital role that our contributions play in funding Westwood's activities.
The following table has been created by analysing individual contributions; when a pledge unit consists of two or more active Westwoodians, their pledge has been divided between them; that gives a more transparent comparison for individual pledge units.  This analysis describes Westwoodians' giving patterns by adding up predicted monthly pledged contributions in 2018/2019 and dividing the sum by four, or into quarters.
This year, there are 7 individuals donating about 25% of our pledges (an average of $363 each per month). There are 10 individuals responsible for another quarter of our contributions, pledging an average of $264 each per month. The third quartile group (14 individuals) has pledged an average of $182 each per month. The largest quartile group is comprised of 32 individuals who have promised to make an average monthly donation of $78 each per month. The table also includes the range within each quartile group i.e. low and high amounts donated.
Please note the numbers below do not include numerous members and friends who do not pledge but still donate although less predictably. Their donations are captured under supplementary contributions with $3000 being the projected total, assuming current trends continue. The 2018-19 budget also includes a likely $2500 from anonymous donations.
Congregational Giving Patterns in 2018/2019 – Sharing the Responsibility
Westwood individual members and friends
who are donating 25% of the contributions
Quartile
% of Donors in the group
# of Donors in the group
Average Donation per Month
Range
Amount Donated by Quartile per Month
Average Donation per Year
Low
High
1st
11%
7
363
315
450
2542
4257
2nd
16%
10
264
208
315
2636
3164
3rd
22%
14
182
150
208
2554
2189
4th
50%
32
78
20
130
2482
902
 
 
 
 
 
 
 
 
 
Similar to previous years, this year's stewardship campaign uses information (like this table) from "Beyond Fundraising: A Complete Guide to Congregational Stewardship" by Wayne B. Clark copyright 2007.
Person F has been contributing to Westwood for years.  At $200/month their pledge (the commitment to support for a year) puts them un the high part of the 3rd quartile.
Person C often writes a cheque and puts it in the collection plate when they attend.  They contribute generously because they can, and believe in the benefit of participating in a faith community.  However, their contributions do not appear on this table because they have not communicated a desire to support Westwood on a regular basis.
Persons Q & R are a couple; both are very active at Westwood.  Together they contribute $630/month.  Their contribution (divided between them) puts them on the cusp between the 1st and 2nd quartiles.
This chart illustrates what a vulnerable financial position Westwood is in.  When so few people are responsible for such a large proportion of the contributions, one of them moving away or dying can have a dramatic impact on revenues and, therefore, Westwood's ability to achieve its purpose for being in existence.
Membership & Friendship
Westwood has 78 members and numerous friends who provide financial and volunteer support to the congregation. Westwood continues to gain a few new friends and members every year, but at the same time, some friends and members move away or become less active.
There is no membership fee at Westwood Unitarian. 
It is up to each of us, as part of our faith community, to contribute as much as we can and how we can.
Proposal for 2019-2020:
A Balanced Budget financed by an increase in contributions and another casino

The proposed budget for 2019 – 2020 has an overall increase of 1.9%.  It maintains current programs and includes a 2.9% increase (Alberta's inflation rate) for staff.  Some areas of expenditure will be able to hold the line, with no budgeted increase.  Others (e.g. our building) will likely have some significant expenses next year.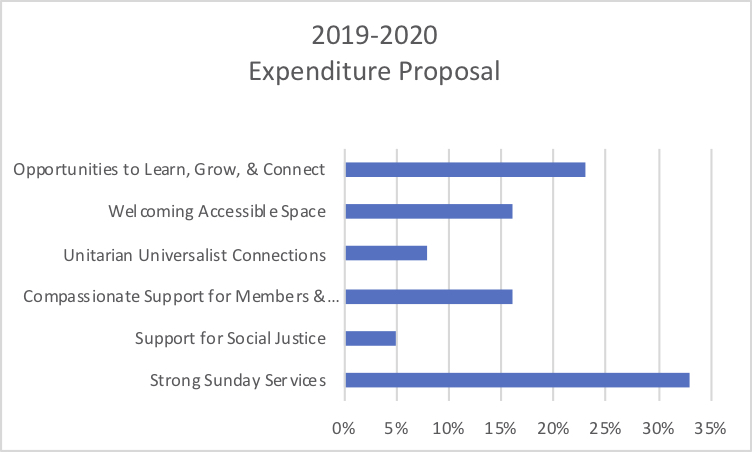 So much of what Westwood does could be described as Opportunities to Learn, Grow, & Connect.  Here, we are talking about the special programs offered beyond the realm of our Sunday morning activities, things like our Freethinkers' Book Club, our Lay Chaplain, our Committee on Shared Ministry, even our choir to some extent.  And, of course, our staff and the board play important roles in this programming.
Westwood continues to move forward, however slowly it may seem, in offering a Welcoming Accessible Space.  In recent years, we have moved from entirely volunteer driven grounds maintenance to a partly paid/partly volunteer model.  A significant proportion of our office administrator's time is spent looking after the rental of our building and paying the utility and other bills.  Even without a mortgage, it still costs us about $30,000 annually to maintain our building and grounds, keep the lights on, and save a bit for emergent situations such as this past year's foundation repair.
Although we are self-governing and self-determining, Westwood is a member of a national group of UU congregations.  Our Unitarian Universalist Connections provide us with advice, buying & investing power, shared resources, and opportunities to support the work of our volunteers through conferences and workshops.
Compassionate Support for Members & Friends, of any age, is a vital aspect of why we exist.  We offer New to UU & New to Westwood programs, operate a Compassion Bank, organize memorial services and rites of passage.  "Westwood is a compassionate community of …" is how our purpose statement begins.
Support for Social Justice comes in many forms; movie nights, winter solstice recipients, child & youth education and activities are a few of these. It should be noted that support for social justice is reflected in our other budget categories by the very nature of who we are and the kind of programming we offer in Sunday services and our opportunities to learn, grow and connect.
About one third of our resources are used to provide Strong Sunday Services.  We have the good fortune to be a partly lay-led congregation with a minister who provides half of our services and guides the planning for the rest of them.  We provide childcare on Sunday mornings so that parents who attend services, and those who provide assistance with services, have responsible child care.  We have All-generation Services as well as worship experiences specifically for our children and youth.  We understand the important support role that music plays in our worship and fund it accordingly.  We serve coffee, tea, & juice after our services.
As I write this, I realize how very fortunate we are to be able to offer these life-affirming things to each other and to newcomers!  Our community helps bolster both our collective and individual efforts to rest, grow, and serve the world.
Based on our What's Next discussions, we may end up deciding to allocate our revenue somewhat differently, but that is a discussion for all of us and is not reflected in this budget proposal.
Which brings us back to the other side of the equation:  our sources of revenue.
Our goal this year is to achieve at least $129,000 in pledged, supplementary and anonymous contributions; this is equal to the amount we contributed in the 2016-2017 fiscal year but the membership in our congregation has changed during the intervening years; Westwood is vulnerable financially, as described above.  The goal for 'Other Revenue' is $56,625, comprised of $15,000 in rental revenue, $40,000 from this coming year's casino revenue, and the remainder generated from workshops, interest, and other miscellaneous sources.
Westwood has been experiencing some dramatic shifts in revenue sources.  We will need our members and friends to significantly increase their contributions in order to afford this very modest increase in our budget.
Let's see how that looks on our quartile chart:
Possible Congregational Giving 2019/2020 – Toward a Thriving Future

Westwood Individual Members & Friends

Donating 25% of the contributions

Quartile

2018-2019 Average Monthly
2019-2020 Average Monthly
Range of Contributions within the Quartile
Low 2018-2019
Low 2019-2020
High 2018-2019

High 2019-2020

1st

363

418

315

362

450

518

2nd

264

304

208

239

315

362
3rd

182

209

150

173

208

239

4th

78

90

20

23

130

150
If Person A has been contributing $265/month this year, we are asking that they consider raising their contribution to $305/month for the July 2019 to June 2020 fiscal year.
If Person J has been contributing $78/month this year, we are asking that they consider raising their contribution to $90/month for the July 2019 to June 2020 fiscal year.
If Person M has been contributing $200/month this year, and gets a new job with a higher salary, we are asking that they consider raising their contribution to more than $235/month for the July 2019 to June 2020 fiscal year.  Such an increase would move Person M from the 3rd quartile to the 2nd quartile, helping Westwood move into a more balanced (less precarious) congregational giving pattern.
If Person W has been contributing sporadically this year, we are asking that they consider contributing on a regular basis for the July 2019 to June 2020 fiscal year, and let us know of that intention, so that we know we can count on your financial support.
If we each increased our contributions by a loonie a day, or began contributing regularly and consistently, that would be enough to meet our revenue target for next year. 
For someone whose contributions are in the 4th quartile, that might bump them up into the 3rd quartile.   Usually people whose contributions are in the first quartile have more discretionary income and, therefore, a greater ability to increase their contributions.  However, there isn't a one-to-one relationship between size of contributions and level of income.  It is not correct or fair to assume that someone who is contributing in the 2nd quartile is wealthier than someone in the 3rd quartile; it may or may not be so.  The  amount one chooses to contribute to or spend on something has a lot to do with the priority one places on it.
Some things to reflect upon: 
Has my income changed in the past while; is this reflected in my contribution to Westwood's Mission?
Are there other areas of my budget that could be trimmed a bit in order to increase my contribution to Westwood's activities and aspirations?
Would I miss any one of these items in a week:  an extra latte, a glass of wine or beer, a fast food meal?
Would I miss a dollar a day if I invested it in moving Westwood toward a thriving future??
What about a quarter a day? 
What difference would it make (to me, to people I know, to the community) if Westwood ceased to exist?
What role do I want to play in Westwood's goals/activities?
If you've never contributed on a regular basis before, please consider doing so this year.  If you tell us your intentions in advance (i.e. pledge), we are able to use that information to plan our expenditures.
If you are already a regular contributor, firstly – thank you for your support in the past!  We hope you are able to continue that support; we sincerely hope that you are able to increase your financial commitment.
If you're in the lower quartiles, are you ready to move up a quartile?  The cost of one latte a week could potentially move you from the fourth to the third quartile. Would you be willing to put that into a thriving future for Westwood?
Small or large, all contributions help support the community's activities and aspirations.
$10/month pays one month of the telephone bill.
$25/month pays for the compassion bank expenses, or choir's annual music budget
$30/month keeps our website online.
$40/month provides our staff with WCB protection.
$83/month pays for supplies for the childrens' program
a quarter a day = $7.50/month = 91.25/year
a loonie a day = $28-31/month = $365/year
…you get the idea…It all adds up!
A final consideration: What's My Fair Share?
It's not necessarily easy to decide on the right amount to pledge. 
The Suggested Fair-Share Giving Guide offers an interesting perspective to help tackle the question of "how much is right for me?" The guide is progressive i.e.once your basic needs are met, it's a case of 'the more you have, the more generous you can afford to be.'