As your treasurer, I get to discuss the financial side of life at Westwood.  
First, though, I am in the fortunate position of congratulating and thanking Westwoodians
 for our successful fundraising auction held over the last 10 days of February.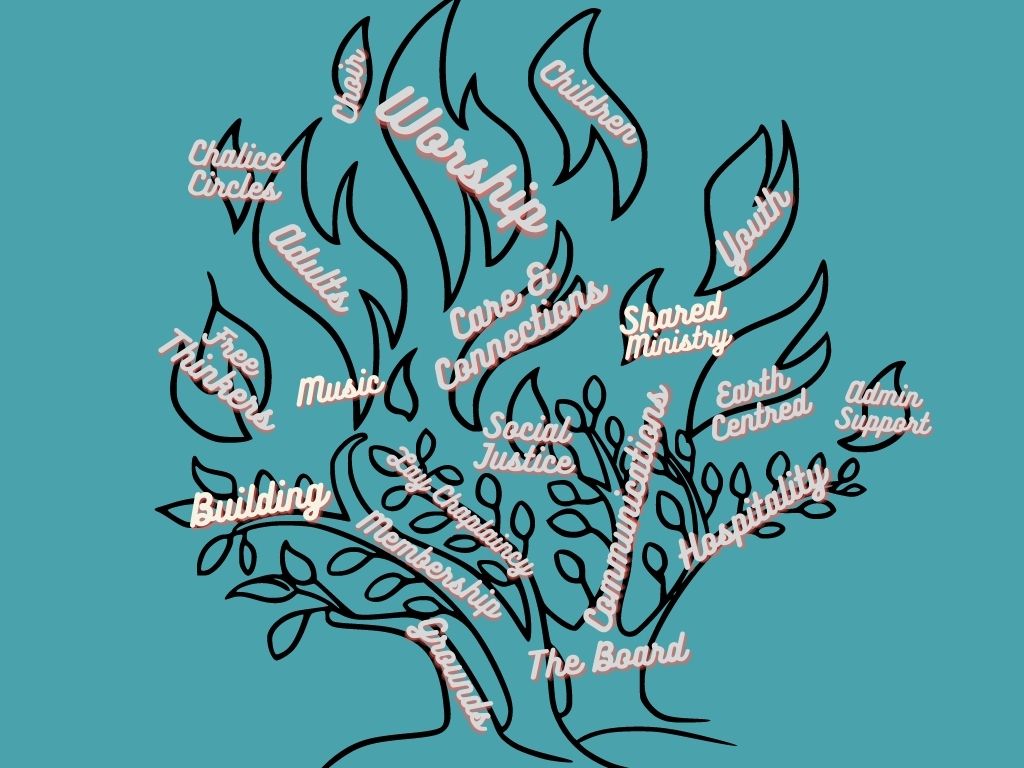 Stewardship at Westwood 
"We make a living by what we get; we make a life by what we give."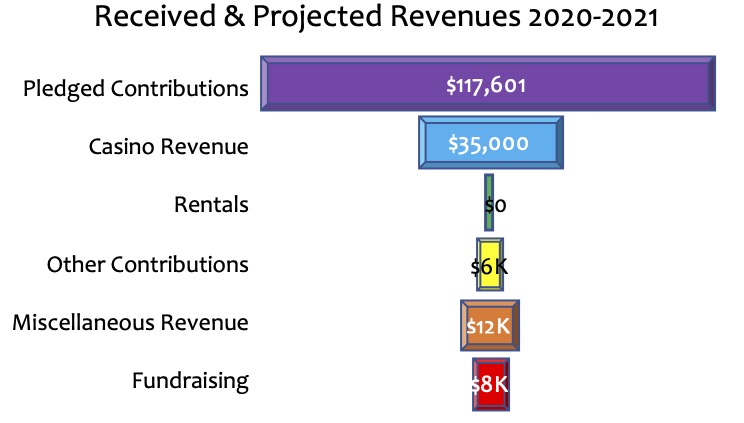 Where have our financial resources been coming from in the 2020/21 fiscal year?
During this pandemic year, Westwood has seen a shift in its revenue sources. Fundraising, casino proceeds, and assistance from the federal government have all contributed to our revenue but, by far, the most important source of funding for Westwood remains: the contributions from its members and friends. Westwood aims to be, and is, a diverse community in many ways. You will often hear a service leader say something like: "We welcome all persons of goodwill whatever their culture, colour, class, religion, gender, wealth, or the direction of their affections." We are not all the same and this is appropriately reflected in our giving. The graphic illustration shows the vital role that our contributions play in funding Westwood's activities.
Proposal for 2021-2022:
A Balanced Budget financed by
an increase in contributions and a FUNdraising event.

The proposed budget for 2021 – 2022 is similar to last year's.  It maintains current programs and includes a 0.77% increase (Alberta's inflation rate) for staff.  Westwood is not presently planning for any major shifts in its expenditures but is facing a significant funding crunch.   The pandemic has closed many buildings, including casinos.  Therefore it is uncertain when we will next be able to volunteer at a casino and share in its revenue.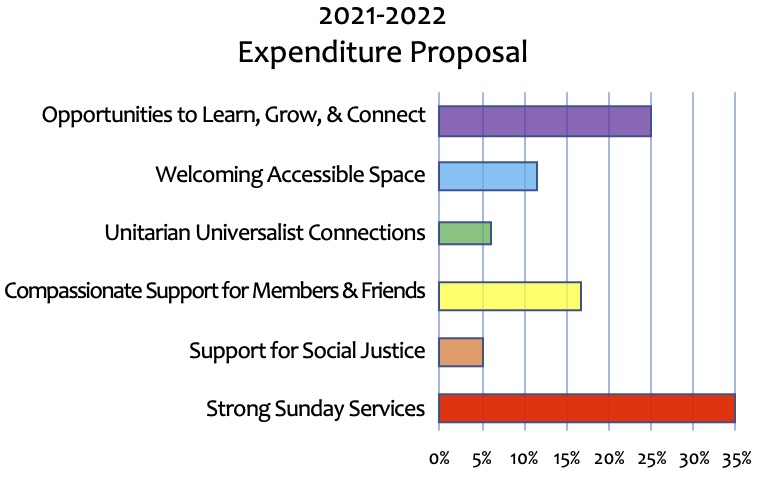 About one third of our resources are used to provide Strong Sunday Services.  We have made the transition to online services nimbly and effectively.  We have the good fortune to be a partly lay-led congregation with a minister who provides half of our services and contributes to the planning for the rest of them. We offer specialized online programming for our children and youth. When our building is open, we provide childcare on Sunday mornings so that parents who attend services, and those who provide assistance with services, have responsible child care.  We have All-Generation Services as well as worship experiences specifically for our children and youth.  We understand the important support role that music plays in our worship and fund it accordingly.
Although we are self-governing and self-determining, Westwood is a member of a national group of UU congregations.  Our Unitarian Universalist Connections provide us with advice, buying & investing power, shared resources, and opportunities to support the work of our volunteers through conferences and workshops. 
So much of what Westwood does could be described as Opportunities to Learn, Grow, & Connect.  Here, we are talking about the special programs offered beyond the realm of our Sunday morning activities, things like our Freethinkers' Book Club, our Committee on Shared Ministry, even our choir to some extent.  And, of course, our staff and the board play important roles in this programming.  When our building reopens, Westwood will continue to move forward in offering a Welcoming Accessible Space.  In recent years, we have moved from entirely volunteer driven grounds maintenance to a mostly contracted model.  Even without a mortgage, it still costs us about $20,000 annually to maintain our building and grounds, keep the heat on, and save a bit for emergent situations.
Compassionate Support for Members & Friends, of any age, is a vital aspect of why we exist.  We operate a Compassion Bank, offer New to UU & New to Westwood programs, organize memorial services and rites of passage.  "Westwood is a compassionate community of …" is how our purpose statement begins.
Support for Social Justice comes in many forms; ReconciliAction, winter solstice recipients, child & youth education and activities are a few of these. It should be noted that support for social justice is reflected in our other budget categories by the very nature of who we are and the kind of programming we offer in Sunday services and our opportunities to learn, grow and connect.
As I write this, I realize how very fortunate we are to be able to offer these life-affirming things to each other and to newcomers!  Our community helps bolster both our collective and individual efforts to rest, grow, and serve the world.
Unitarian Universalists, individually and collectively, are often on the forefront of societal change; nevertheless, changes can be challenging.  Westwood will continue to evolve with the times and we may decide to allocate our revenue somewhat differently in the future, but that is a discussion and decision for all of us and is not reflected in this budget proposal.
Which brings us back to the other side of the equation:
our sources of revenue.  
We need to dig deep this year with the confidence that we can,
together,
build a more stable financial base.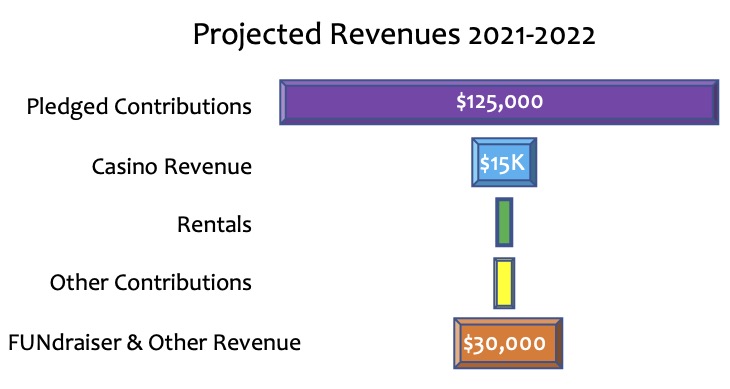 Some things to reflect upon: 
Has my income changed in the past while; is this reflected in my contribution to Westwood's Mission?
Are there other areas of my budget that could be trimmed a bit in order to increase my contribution to Westwood's activities and aspirations?
Would I miss any one of these items in a week: coffee instead of a latte, a glass of wine or beer, a fast food meal?
Would I miss a twonie a day if I invested it in helping Westwood gather??
What about a quarter a day?
What difference would it make (to me, to people I know, to the community) if Westwood ceased to exist?
What role do I want to play in Westwood's goals/activities?
If you've never contributed on a regular basis before, please consider doing so this year.  If you tell us your intentions in advance (i.e. pledge), we are able to use that information to plan our expenditures.
If you are already a regular contributor, thank you for your support in the past!  We hope you are able to continue that support; we sincerely hope that you are able to increase your financial commitment. 
All contributions help support the community's activities and aspirations.
$10/month pays 10% of the telephone bill.
$25/month pays for our Compassionate Connections program plus the choir's annual music budget.
$30/month keeps our website online.
$40/month provides our staff with WCB protection.
$83/month pays for supplies for the children's program.
a quarter a day = $7.50/month = 91.25/year
a loonie a day = $28-31/month = $365/year
…you get the idea…it all adds up
A final consideration: What's My Fair Share?
It's not necessarily easy to decide on the right amount to pledge. 
The Suggested Fair-Share Giving Guide offers an interesting perspective to help tackle the question of "how much is right for me?" The guide is progressive i.e.once your basic needs are met, it's a case of 'the more you have, the more generous you can afford to be.'
We ask ALL members and friends to complete  2  forms: a PLEDGE form and the TIME & TALENT form.
If the PLEDGE amount is new o changed, please complete and return the PAD form as well.   
The TIP: No scanner? Take a picture of the completed PAD form and send.