Mark your calendar for Friday  November 22, 2019: benefit concert with the fabulous Celtic band  Celtara!
Doors open at 6:30; music starts at 7:00.  All funds raised will be donated to the Accessible Washroom project, see below. 
It's Done! The New Accessible Washroom Now Available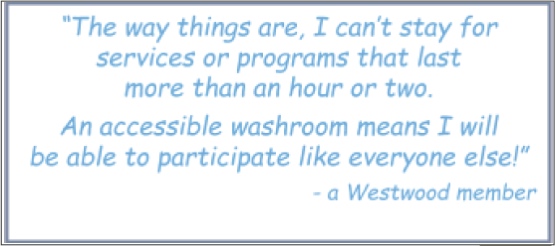 The Westwood Board of Trustees is delighted to announce that an accessible washroom on Westwood's main floor is now operational! This is an important step in the congregation's work to fulfill our purpose, to be:
A compassionate community of free religious thought, inviting all people to rest, grow, and serve the world.
With the:
 installation of this washroom,
 the extension of the accessibility ramp (both on the east side of the building) 
and upgrading our accessible door access 
plus hearing assist devices and amplification 
… our building becomes a more practical example of our ethical commitments.
Our Unitarian Universalist principles lift up the inherent worth and dignity of all and a desire for justice, equity, and compassion in human relations . We are a small, committed group of people who want our actions to exemplify our words. This washroom is an expression of our principles and our desire to enact them. We are excited to succeed at this dream of building an accessible washroom, a project with an investment cost of approximately $25,000. 
So the big task, now, is fundraising. At our 2019 AGM we committed, together, to raise the cost of the project. Your fundraising team is applying for a grant from The West Foundation, planning a November 22nd musical celebration & fundraising event with Westwood friends "Celtara" (ticket button above), and reaching out to everyone we know who has an interest in Westwood, in accessibility, or both.
And, realistically, we know that the majority of the funds for this project will come from our Members and Friends. We are counting on each of us to contribute in whatever ways we are able.
Donations are eligible for a Canadian tax receipt.
Westwood gratefully accepts one time or monthly donations in any of the following ways: 
interac e-transfer to info@westwoodunitarian.ca
Cheque or cash at the church
Donation via Canada Helps (click icon below).