When:
May 31, 2020 @ 10:30 am – 11:45 am
2020-05-31T10:30:00-06:00
2020-05-31T11:45:00-06:00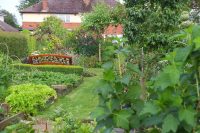 Date: May , 2020 ONLINE ONLY
10:30 AM MDT (service at 10:30 / doors open at 10)
Join Zoom Meeting: https://uuma.zoom.us/j/840706165
Meeting ID: 840 706 165
Or phone +1 587 328 1099        
Not in Alberta? Find a local phone number: https://uuma.zoom.us/u/adF5TVlO5o
Topic: Blessings from the Garden
Description: Mike will talk about the cycle of life in the garden from a permaculture perspective and how caring for the Earth equips us to handle adversity, gives us hope for a better life and the ability to transform our lives in the future.
This month we are featuring our 6th Unitarian Universalist Source: Spiritual teachings of Earth-centered traditions which celebrate the sacred circle of life and instruct us to live in harmony with the rhythms of nature.
Service Leader: Heather MacLean-Smith
Speaker: Mike
Musician: Steve Bell