When:
July 25, 2021 @ 10:30 am – 12:00 pm
2021-07-25T10:30:00-06:00
2021-07-25T12:00:00-06:00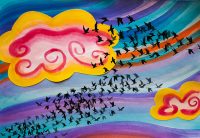 Date: July 25, 2021  ONLINE (detailed link below)                                                                                                       
Join Service here: https://zoom.us/j/99545384626
10:30 AM MT (service at 10:30)
Topic: Summer Serendipity Service – THIS MOMENT IN TIME
Description: Our practices in this moment are scaling up to shape a future that has never existed before – not only for us, but for future generations. The deeper we listen to our collective dreaming the more power it holds to shape our world in new and wonderful ways. What would it look like to slow down and move at the speed of trust? How would it feel to focus on critical connections as a priority over critical mass? This service will explore how we can use our lives as frontlines for transformation.
** Westwood Unitarian is hosting today **
Service Leaders: Ilara Stefaniuk-Gaudet and Easton Avery
Join Sunday Service here:  https://zoom.us/j/99545384626
Or phone +1 587 328 1099        Meeting ID: 995 4538 4626
Not in Alberta? Find your local number: https://zoom.us/u/aejpP0uzSP