When:
June 7, 2020 @ 10:30 am – 11:45 am
2020-06-07T10:30:00-06:00
2020-06-07T11:45:00-06:00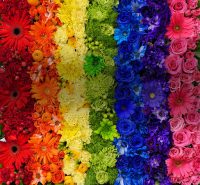 Date: June 7, 2020 ONLINE ONLY (link below)
10:30 AM MDT (service at 10:30 / doors open at 10)
Intersections: where PRIDE meets PREJUDICE
Topic: Westwood's Annual PRIDE Service & FLOWER COMMUNION … adapted for 'real time'
Given the pivotal expressions of pain and suffering – related to systemic racism and the subsequent death of George Floyd – this service topic has been adapted to meet the current moment. It is still PRIDE, and Flower Communion, and it is also an opportunity to engage with the emergent movements of the day.    Please join us.    #BlackLivesMatter    #PRIDEmonth
Help us build a community rainbow – bring a flower to your Zoom window this Sunday Morning. A cut flower, a house plant, a photo of last year's garden, a drawing, tissue paper flowers, your flowery hat … ALL the flowers are welcome. We will celebrate the LGBTQ2S Rainbow of Love – and the gifts of diversity among us. There will be time to browse through one another's windows.
There is an opportunity for 'social time' in break-out rooms following the service – a time to connect with friends old and new. 
Our June 2020 Westwood Theme is "SOURCES OF CELEBRATION".
Service Leader: Dennis Foth
Speaker: Reverend Anne Barker
Musician: Sheila Killoran
Join Sunday Service here: https://uuma.zoom.us/j/840706165
Or phone +1 587 328 1099        Meeting ID: 840 706 165
Not in Alberta? Find a local phone number: https://uuma.zoom.us/u/adF5TVlO5o