When:
May 17, 2020 @ 10:30 am – 11:45 am
2020-05-17T10:30:00-06:00
2020-05-17T11:45:00-06:00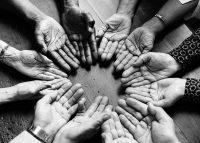 Date: May 17, 2020 ONLINE ONLY
This is our 3rd 'ALL EDMONTON UUs TOGETHER' service of the season.
10:30 AM MDT (service at 10:30 / doors open at 10)   
Join Zoom Meeting: https://zoom.us/j/200338874
Or phone +1 587 328 1099      Meeting ID: 200 338 874  
Topic: What Does It Mean To Do Good?
Description: Our commitment to "justice, equity, and compassion in human relations" draws us to social justice and compels us to contribute our resources – donations, volunteering, or political action – to that end. But as Thackeray asked, and as we must ask ourselves, "Who can tell the mischief which the very virtuous do?"
This month we are featuring our 6th Unitarian Universalist Source: Spiritual teachings of Earth-centered traditions which celebrate the sacred circle of life and instruct us to live in harmony with the rhythms of nature.
Service Leader: Reverend Anne Barker
Speaker: Jeff Bisanz
Musician: Carrie Day