We had a great discussion in March and were "blessed" with participation by two friends from Society of Edmonton Atheists. Hopefully we will be able to induce the SEA president Karen  Kerr to talk to us on a Sunday morning next year.
In line with the CUCs focus on water issues this spring, , the bookclub's April and final meeting of the year is on Wednesday April 24th. We have chosen to read Maude Barlow's latest book on water issues – Boiling Point: Government Neglect, Corporate Abuse, and Canada's Water Crisis.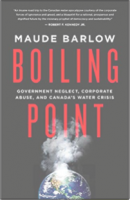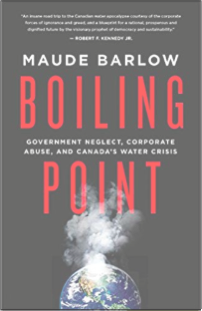 "Passionate and cogent, this could be the most important book of the year for Canadians
We are complacent. We bask in the idea that Canada holds 20% of the world's fresh water ― water crises face other countries, but not ours. We could not be more wrong. In Boiling Point, bestselling author and activist Maude Barlow lays bare the issues facing Canada's water reserves, including long-outdated water laws, unmapped and unprotected groundwater reserves, agricultural pollution, industrial-waste dumping, boil-water advisories, and the effects of deforestation and climate change. This will be the defining issue of the coming decade, and most of us have no idea that it is on our very own doorstep.
Barlow is one of the world's foremost water activists and she has been on the front lines of the world's water crises for the past 20 years. She has seen first-hand the scale of the water problems facing much of the world, but also many of the solutions that are being applied. In Boiling Point, she brings this wealth of experience and expertise home to craft a compelling blueprint for Canada's water security."
We will also be choosing books for the coming winter!
All invited, 7:00 PM April 24th in the Church basement!