The Canadian Unitarian Council's Annual General Meeting will be held online via Zoom on Friday, May 15, 2020 from 10:00 AM  to 1:30 PM MDT.
Westwood's delegates to the CUC (Canadian Unitarian Council), voting on Westwood's behalf at the AGM in May, are Michael Gallagher and Sally-Ann Mowat.
The Conference that was to have been held in Halifax will be in Halifax in 2021. This year we will be meeting and voting remotely.  full details including Annual Report, full text of motions, previous years minutes and other details are available at
CUC website.
The two motions in the agenda are straightforward and likely to pass, however Westwoodians deserve an opportunity to
check them out. They are summarized below:
Motion 1. Small changes to the terms of reference for the CUC Board to insure better continuity as terms for board members begin and end. 
Motion 2. Changes to the CUC's goals and strategic priorities: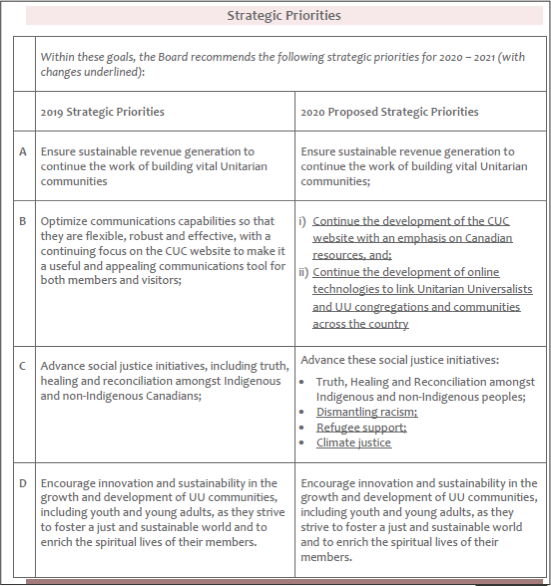 The CUC suggests we ask these questions of each motion:
Is the proposed resolution relevant and timely?
Does it address an issue that is important or significant for our national UU community?
Does the resolution address or connect to one or more of the CUC principles?
Do you support the principles underlying the resolution?
Does the resolution propose appropriate, reasonable and realistic actions for the CUC, member congregations and others? 
What actions do you believe it proposes for your Congregation? Is your Congregation interested or willing to get involved?
Is the wording of the resolution clear and concise?
Do you have specific suggestions to improve or amend the resolution?
If you have input you think Michael and Sally should have before we vote, please contact
info@westwoodunitarian.ca
and copy Michael and Sally-Ann (contact details in Westwood Directory.