Stay Tuned for Information on 2019/2020 Youth Programming!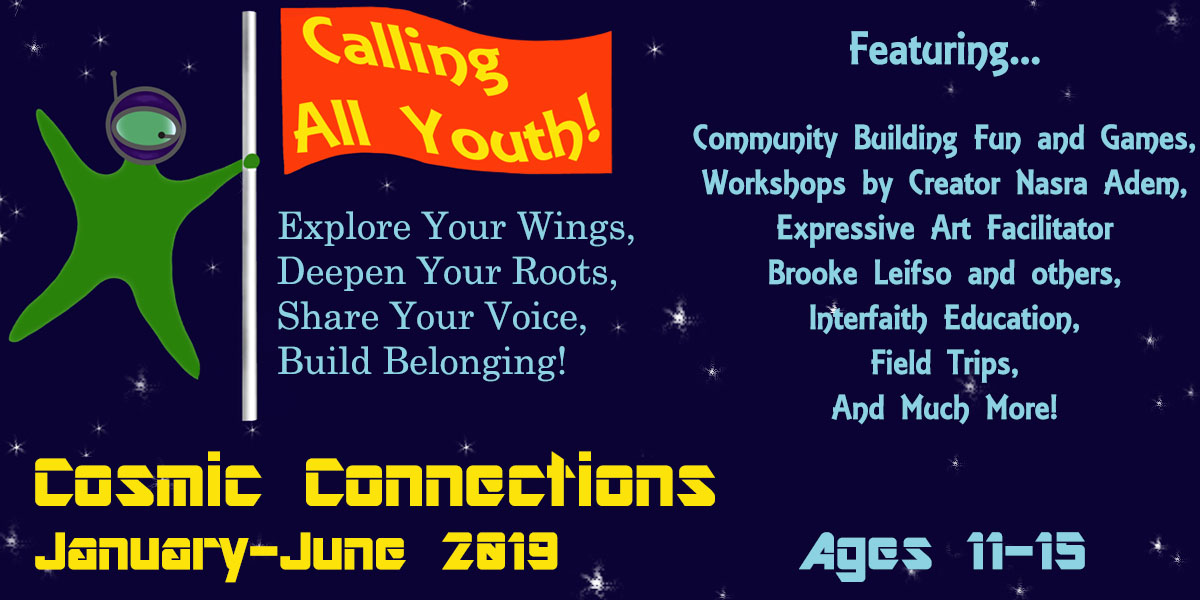 Are you looking for a place to really feel like you belong? Do you like asking and talking about the big questions in life? Would you like to be in a safe space to grow together with others? Do you celebrate diversity and want to explore lots of different ideas and beliefs? Join us to create your very own Cosmic Connections!
In today's world, it can be hard to find spaces of spiritual belonging as churches and religions are becoming less mainstream and secular spaces don't offer the religious and spiritual context, so we want to provide this to you! Our primary goals as program leaders are to build a network of inter-faith youth leaders with skill-sets in community building, value sharing, and having the confidence to forge new paths. Our vision is to create the light we want to see in the world. We are connecting you with the opportunity to build solidarity and community with one another and explore your own values and beliefs while learning about many faith traditions through workshops, field trips, plenty of games and activities, and time to reflect and connect. The entire program will strive to follow the community building steps of Bonding, Opening Up, Affirming, Stretching, and Deeper Sharing and Goal Setting, a model for youth workshop development found in Unitarian Universalist resource "Deep Fun".
All Workshops and field trips will run two Saturdays per month between 4:30pm and 7pm between January and June 2019. The first Saturday of programming at 4:30pm will be a Meet-and-Greet to give youth and parents the opportunity to get to know each other and program leadership and to ask any questions they might have about programming in person. Refreshments will be provided. Detailed schedules and information forms to fill out about your youth will be given to registrants at the Meet-and-Greet. Supper will be included on any evenings that run later than 6pm.
Program Dates:
January 5 and 19
February 16 and 23
March 2 and 16
April 13 and 27
May 11 and 25
June 8 and 22
Please be aware that the registration costs are all on a sliding scale and there is a donation option available if cost is a challenge. There is a sliding drop-in fee of $10-$20, but no-one will be turned away!
Also note that Westwood is a scent-free zone to accommodate folks with scent allergies. All Participants and visitors to our space are asked to avoid scented personal care products including perfumes, aftershave, deodorants, hair care products, etc.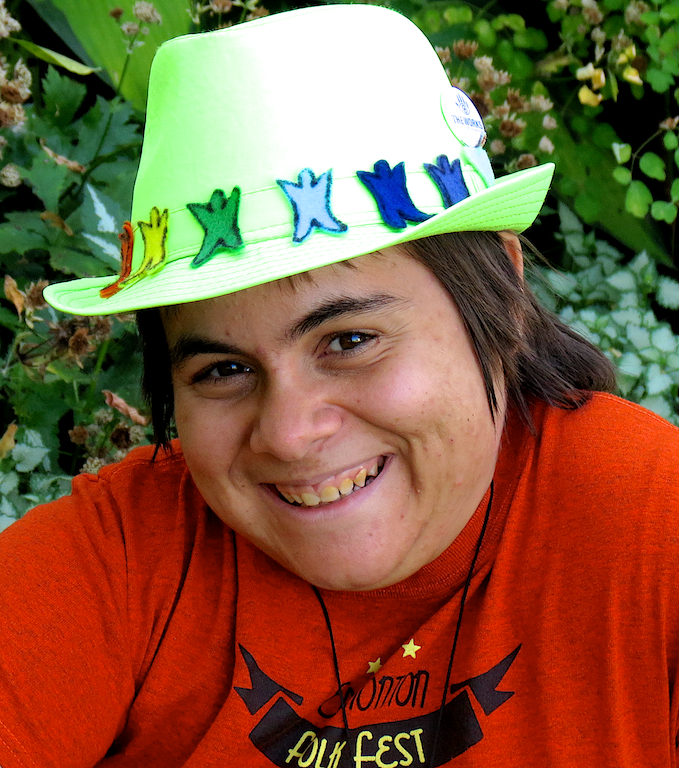 Ilara Stefaniuk-Gaudet
Ilara Stefaniuk-Gaudet has been the Director of Religious Education at Westwood since 2013. They create socially relevant, fun curriculum for children of all ages and have always loved teaching and playing with humans of all ages and walks of life. Ilara loves that learning is a life-long process and is forever grateful to share that process with others. Ilara is an artist by nature and everything they do is alive with a creativity that sometimes they can explain and sometimes is entirely mysterious, which is exactly how they like it! Cosmic Connections is one of the results of this creativity, and Ilara is very excited to see what it will become! Ilara believes that youth voices are crucial to healthy communities and wants to help encourage that reality. A few of the many things that fill their time currently include needle-felting squirrels and leaves, board game nights with family and friends, playing guitar, digging up carrots, and cuddling their two, oh-so-floofy cat babies.
Heather MacLean-Smith
Heather MacLean-Smith has been involved with Unitarian Youth Programming consistently since she was a youth herself. She has worked as a nursery care provider in the Westwood Children's Program and has served as an active and trusted member of Westwood Congregation for many years in varying capacities, including Youth Advisor. Heather strongly believes in empowering youth and helping them find their ability to be self-expressive. Heather joined the Cosmic Connections team because it will be an active way to engage with youth and live out her values. Heather's day job is fixing broken people as a registered massage therapist. She enjoys spending time with her girlfriend, chilling with her cats, and writing poetry.
Graham MacFarlane
Graham MacFarlane is an alumnus of the TUXIS Youth Parliament of Alberta who continues to believe in the value of uplifting and encouraging young people. He believes it is just as important for people to develop strong and healthy social and spiritual lives as it is to seek physical and intellectual achievement. Graham joined the Cosmic Connections team because he knows that beliefs don't put themselves into action; it's not enough for a person just to say they believe in building that uplifting and encouraging community, it's also important to do what they can to participate in the building. When he's not writing such ambitious prose about how he seeks to make positive changes in the world, Graham enjoys playing various tabletop and video games when not at work. He is happily married and a doting cat-dad to three adorable domestic shorthairs.
Time for another round of, "Who's That UU?" Join us for our All Ages Pride Service this coming Sunday, June 9 to discover the answer, …
Read More →