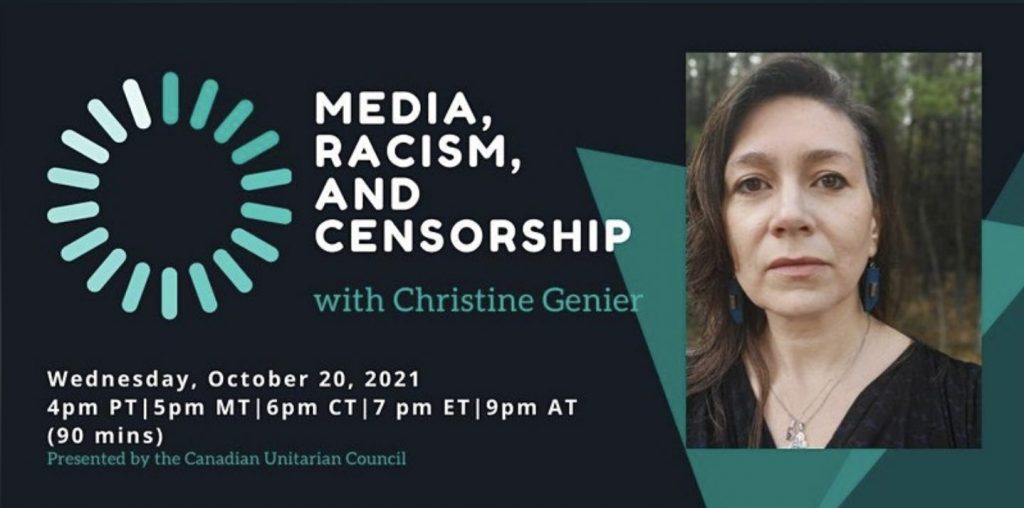 Media, Racism, and Censorship with Christine Genier
People have been asking what systemic racism looks like within UUism, how we become aware of it, and how we begin to make substantive changes.  In June of 2020, Christine made national headlines when she quit her job as host of CBC Yukon Morning, live and on the air, because of systemic racism.  She has much to share with us about how systemic racism works in the media, and how controlling the pace of someone else's truth is harmful for everyone. We are certain her insights will help to broaden our understanding of the mechanisms of racism that are invisible to us, yet very much alive in our movement, institutions, and society at large.
This 60 minute address will be followed by a 30 minute Q & A session where the audience can ask questions to delve into things more deeply. No prior skills or expertise required. All are welcome.
The online event takes place on Wednesday, October 20, 2021, 5:00 pm MT (1.5 hours)
Please register early on Eventbrite (cost $41) so we know we have enough registrants to move forward with this fabulous speaker.If you would like to request a subsidized rate, email to  reconciliation@cuc.ca and we will send you a code. Free or reduced tickets available for people who help promote the event in their academic, work, or social audience.  Email to discuss.
Submitted by Westwood's CUC Liaison, Sally-Ann Mowat