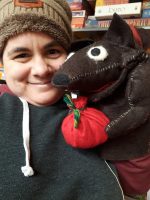 Although many of you have met today's feature Story Corner friend in the fur, Spruce wanted to share some things about ermself that you may not know yet, and introduce ermself to those of you that e hasn't met yet! Spruce has A LOT of backstory! In fact, Spruce has so much backstory that I often finds myself as surprised as anyone else by some of the things Spruce comes up with. Spruce is a very unscripted squirrel, and we love erm for it.
Spruce wants to to share a bit of erm backstory for anyone new to our community. Spruce has been a part of Westwood for a few years now, and is a very beloved community member. Spruce's stories began in the Westwood RealiTree, which was an incredible living sculptural piece that changed every single Sunday to match what was happening in nature. Here is a photo of the RealiTree from this time in a year past!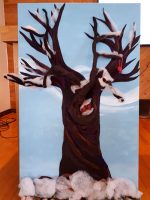 This was Spruce's original home, as well as the roots of Spruce's stories! During our year of time with the RealiTree, I used it for our monthly Sunday Stories for All Ages, so folks got to know Spruce and a few other story friends very well! Originally, Spruce was a little felted squirrel that lived in the RealiTree, but them erm dressed as a puppet of ermself for Halloween one year…and now erm is magically transformed into the puppet version of ermself! Spruce has even changed erm pronouns within our Westwood community and is forever grateful for the loving response e has received.
Now that Spruce has shared a small portion of erm backstory, e tells me e would also like to reveal some NEVER BEFORE SAID OUT LOUD parts about erm life! E hadn't even told me what I'm about to tell you until this very minute! I, for one, can hardly contain my excitement to hear what e is going to tell me! You folks all ready for this? So, apparently the pouch that Spruce always carries in erm paws is a MAGIC pouch! It's made to look like an apple, and at one point it held soft things to help line another squirrel's nest, but in reality it can hold anything that Spruce wishes for inside it! Wow, I can't believe Spruce hadn't told me that before! Imagine the story possibilities with a magic wishing pouch!
Speaking of stories, Spruce would love to see you at our Saturday Story Corners! We gather in our Zoom Room to settle in and get comfy at 2:45pm MT, then there is a 3pm story on our Facebook Live! After our story we pop back into the Zoom Room so you can visit with our puppet friends! All are welcome to join us on either platform; Spruce LOVES seeing people commenting on erm stories!
See you all soon!
Much love from me and Spruce!
Ilara Stefaniuk-Gaudet, Director of Religious Education