For Monthly Calendar View – at right side of page click the word "Agenda" to select alternate views
This calendar shows:
all Westwood Sunday services & events
regularly scheduled Westwood meetings
dates to remember, like Minister's & Administrator's office hours
building bookings, including Westwood events, non-Westwood public events and private bookings
Use the "Categories" or Tags" buttons to toggle different types of events on and off.
Use the 'Agenda" tab at right at change from daily, weekly, monthly view of the calendar.
Nov
22
Sun
Sunday Book Club and Lunch
Nov 22 @ 12:00 pm – 3:00 pm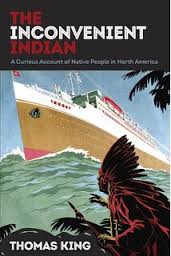 Sunday, November 22nd Noon-3:00 PM
**NEW**
'Tools of Transformation' Book Study: The Inconvenient Indian by Thomas King
Join us for a book club style gathering, to discuss this insightful, provocative book. E-Copies are readily available at the Edmonton Public Library / hard copies may include some wait. If you need help accessing a copy, contact Rev. Anne. Time to get reading! 
Sign-up at Westwood in November or contact Rev. Anne: anne@westwoodunitarian.ca
Soup & bread lunch provided.
Feel free to bring snacks / desserts to share, if you wish.