For Monthly Calendar View – at right side of page click the word "Agenda" to select alternate views
This calendar shows:
all Westwood Sunday services & events
regularly scheduled Westwood meetings
dates to remember, like Minister's & Administrator's office hours
building bookings, including Westwood events, non-Westwood public events and private bookings
Use the "Categories" or Tags" buttons to toggle different types of events on and off.
Use the 'Agenda" tab at right at change from daily, weekly, monthly view of the calendar.
Apr
9
Thu
Basement – Social Justice Meeting
Apr 9 @ 7:15 pm – 9:00 pm
monthly meeting of the Social Justice Committee.  All are welcome!
Apr
11
Sat
Spruce's Saturday Story Corner
Apr 11 @ 3:00 pm – 4:00 pm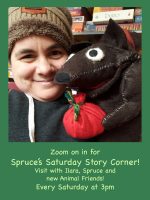 For families with elementary aged or younger children, Director of Religious Education, Ilara Stefaniuk-Gaudet (they/them pronouns) will be hosting a weekly story session with our friend Spruce the Squirrel (e/erm pronouns) and some new animal friends joining in as the weeks progress. This space offers interactive storytelling and visiting with other children and families at 3pm every Saturday. To join in, simply click here. Feel free to come a few minutes early if you are unfamiliar with the Zoom platform, Ilara and Spruce will be present at 2:30pm each week for tech support.