For Monthly Calendar View – at right side of page click the word "Agenda" to select alternate views
This calendar shows:
all Westwood Sunday services & events
regularly scheduled Westwood meetings
dates to remember, like Minister's & Administrator's office hours
building bookings, including Westwood events, non-Westwood public events and private bookings
Use the "Categories" or Tags" buttons to toggle different types of events on and off.
Use the 'Agenda" tab at right at change from daily, weekly, monthly view of the calendar.
11
Tue
All-day
9:00 am
Administrator's Office Hours
Administrator's Office Hours
Aug 11 @ 9:00 am – 11:00 am
7:15 pm
Harmonia Rehearsal
Harmonia Rehearsal
Aug 11 @ 7:15 pm – 9:00 pm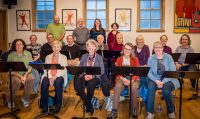 Come Sing With Us! Harmonia performs monthly in Sunday services during the regular church year, September to May. During that time they meet in the sanctuary on Tuesday evenings, 7:15 to 9 pm, to sing songs together in preparation for performances – but choir evenings are also a delightful event in themselves! Newcomers – youth ...