For Monthly Calendar View – at right side of page click the word "Agenda" to select alternate views
This calendar shows:
all Westwood Sunday services & events
regularly scheduled Westwood meetings
dates to remember, like Minister's & Administrator's office hours
building bookings, including Westwood events, non-Westwood public events and private bookings
Use the "Categories" or Tags" buttons to toggle different types of events on and off.
Use the 'Agenda" tab at right at change from daily, weekly, monthly view of the calendar.
14
Sun
All-day
10:30 am
Whole Church – reserved for congregational use
Whole Church – reserved for congregational use
Apr 14 @ 10:30 am – 4:00 pm
12:00 pm
2nd Sunday Potluck
2nd Sunday Potluck
Apr 14 @ 12:00 pm – 1:00 pm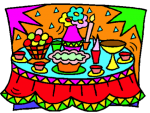 Join us after Sunday service on the 2nd Sunday of each month for an all ages potluck lunch. Bring food to share and your own plate/cutlery. Come even if you didn't bring anything – we always have plenty! 2nd Sunday Potlucks are monthly from September to June. No meeting … no agenda … just lunch ...
Worship Wisdom
Apr 14 @ 10:30 pm – 11:45 pm
Date: April 14, 2019 Topic: Worship Wisdom "Many hands make the work light" is a Worship Committee motto. Join members of the Worship Committee as they reflect on experiences in crafting Sunday services and bringing to life the UU service year. Speakers: Westwood Worship Committee – Heather Maclean-Smith, Sally-Ann Mowat, Daryl Williams Service Leader: Lisa ...