For Monthly Calendar View – at right side of page click the word "Agenda" to select alternate views
This calendar shows:
all Westwood Sunday services & events
regularly scheduled Westwood meetings
dates to remember, like Minister's & Administrator's office hours
building bookings, including Westwood events, non-Westwood public events and private bookings
Use the "Categories" or Tags" buttons to toggle different types of events on and off.
Use the 'Agenda" tab at right at change from daily, weekly, monthly view of the calendar.
20
Sat
All-day
Online Auction
To view items and register to bid: Please go the FUNdraiser site at charityauction.bid/WestwoodFUNdRaiser  The auction site is open now for 'bidder registration' and  viewing the growing list of items on offer.  You can view the items to be auctioned by selecting 'catalog' from the web site. When you register you will be asked for a password ...
10:00 am
Moving Forward: Congregational Meeting
Moving Forward: Congregational Meeting
Feb 20 @ 10:00 am – 12:00 pm

Date: Saturday, February 20, 2021 ONLINE, Join  here:  https://zoom.us/j/99545384626 Meeting ID: 995 4538 4626 10:00 AM MT (doors open at 9:45) Topic: Reflections on Moving Forward Where  have we come from? Who are we? Where are we going? The theme of our next Westwood community gathering echoes the words of a familiar hymn. All members and ...
Story Corner!
Feb 20 @ 2:45 pm – 4:00 pm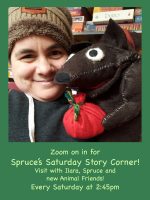 Join Ilara, Spruce the Squirrel, and our many puppet friends for silly stories related to our monthly themes and a time to visit and ask questions! We look forward to seeing you soon! Join us on zoom for the entire time or watch our story live on our Facebook Page at 3pm!