For Monthly Calendar View – at right side of page click the word "Agenda" to select alternate views
This calendar shows:
all Westwood Sunday services & events
regularly scheduled Westwood meetings
dates to remember, like Minister's & Administrator's office hours
building bookings, including Westwood events, non-Westwood public events and private bookings
Use the "Categories" or Tags" buttons to toggle different types of events on and off.
Use the 'Agenda" tab at right at change from daily, weekly, monthly view of the calendar.
9
Sat
All-day
10:00 am
Auction Planning Meeting
Auction Planning Meeting
Jan 9 @ 10:00 am – 11:00 am
If you are interested in helping plan and organize this event, please contact Lorian Join Zoom Meeting https://us02web.zoom.us/j/85207317176 Meeting ID: 852 0731 7176 One tap mobile +16475580588,,85207317176# Canada +17789072071,,85207317176# Canada Dial by your location +1 647 558 0588 Canada +1 778 907 2071 Canada +1 204 272 7920 Canada +1 438 809 7799 Canada +1 ...
Story Corner!
Jan 9 @ 2:45 pm – 4:00 pm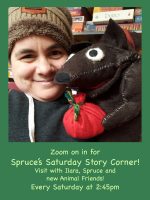 Join Ilara, Spruce the Squirrel, and our many puppet friends for silly stories related to our monthly themes and a time to visit and ask questions! We look forward to seeing you soon! Join us on zoom for the entire time or watch our story live on our Facebook Page at 3pm!