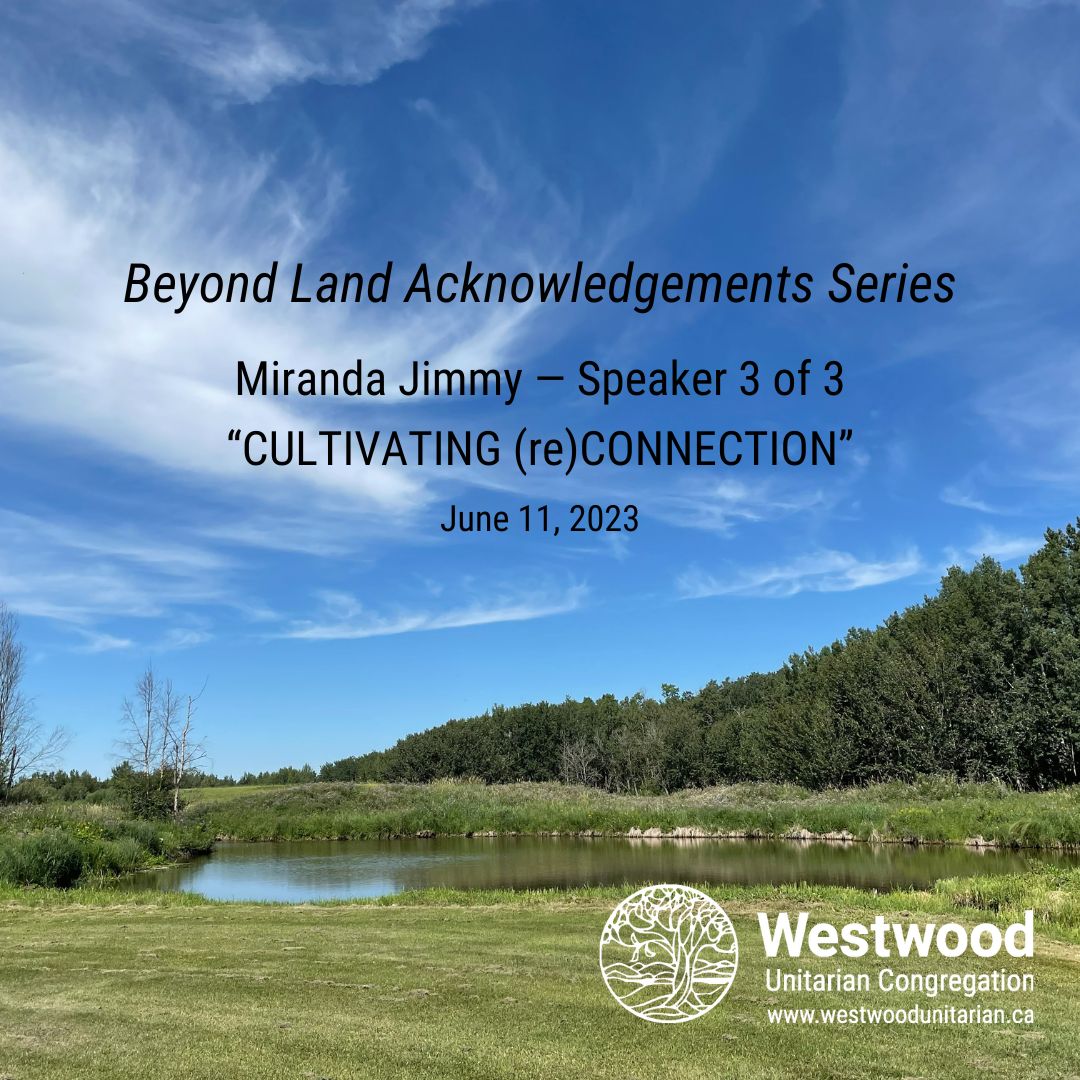 Recording "CULTIVATING (re)CONNECTION," Miranda Jimmy, June 11, 2023
June 11, 2023 at 3:00 PM MT

Topic: CULTIVATING (re)CONNECTION

Together, let's explore what connecting to the Land as an act of reconciliation means in a modern, capitalist, urban environment.
Guest Speaker: Miranda Jimmy

Miranda is a community connector and fierce defender of truth. She is committed to the spirit and intent of the Treaty relationship and finds ways each day to demonstrate to others what this looks like.
Miranda's professional life has focused on contributing to her community in a variety of ways. She has training in arts and cultural management, conflict resolution and negotiation, and communications. She has made a career in the arts and heritage sector, working with many different non-profit organizations, Nations, governments, and private businesses.
Most of the time, Miranda can be found online sharing her thoughts on twitter @TheMirandaJimmy and on her blog at MirandaJimmy.com or wandering in the woods near her home.
Service Leader: Sara McEwan
Technicians: Hannah, Elaine Jeong, Bill Lee
First Speaker in Series: Dylan Reade, "Digging Deeper", February 19, 2023
Second Speaker in Series: Harvey Young Chief, "Down to the Roots", April 16, 2023
Where do you turn for strength, wisdom, comfort, or to be challenged? What inspires you to action or cautions you to re-think your choices? What helps you discern your direction in life? Sustains you in a crisis? Join us for an informal Sunday morning that invites you into reflection and into community.
Westwood Unitarian Congregation is a compassionate community of free religious thought, inviting all people to rest, grow, and serve the world. We welcome all people of good will whatever their culture, colour, class, age, religion, gender expression, wealth, or the direction of their affections. We hold weekly services Sunday at 10:30 AM MT, plus a variety of other events.
We hope you enjoy this recording of our in-person and Zoom service. 
Please feel free to share this recording link with your friends and on social media.

We hope to see you live and online, every Sunday, 10:30 AM MT. (Zoom "doors" open at 10 AM.) 
Westwood Unitarian Facebook Page 
Westwood Unitarian YouTube Channel