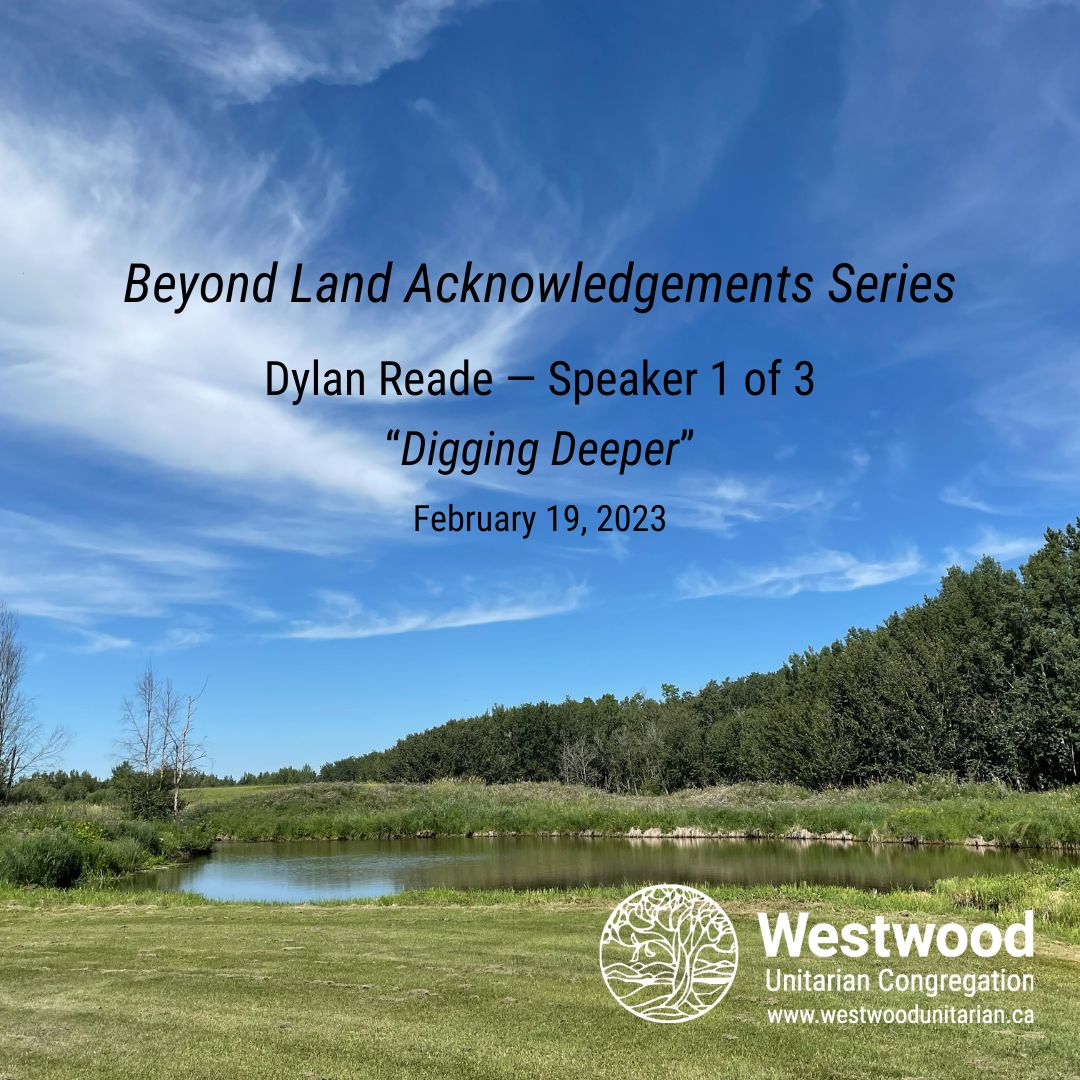 Recording "Digging Deeper," Dylan Reade, Feb 19, 2023
February 19, 2023 at 3:00 PM MT

Topic: Digging Deeper

Ever wonder who was here before us? Dylan Reade will explore the early history of the area we now know as Parkallen where Westwood Unitarian Church is located.
Dylan will share how the re-mapping of early Edmonton is being done and information about earlier habitation. Westwood is located in the midst of an area of particular interest in the picture because much of the homesteading around it was concurrent with, and in a number of cases predated, those in the river lot narrative. Consequently there is a story of Treaty 6 pre-Reserve and off-Reserve homesteading that has been largely missing from our civic narrative but for which information has survived to allow its reconstruction.
Did you know? One of the silly things about the naming of our Edmonton neighbourhoods is that "McKernan neighbourhood" was not where McKernan's farm stood — his was on what is now mostly Belgravia and the portion of the University Farm that includes Foote Field. Not even a single acre of overlap with present day McKernan!
Dylan is a filmmaker with a keen interest in local history. Dylan has worked with the Beaver Hills Biosphere to produce a series of films on local history. Related to all of this work, Dylan has mapped out the river lots and historic settlements of south Edmonton.
Guest Speaker: Dylan Reade

Technicians: Hannah, Elaine Jeong, Bill Lee
Where do you turn for strength, wisdom, comfort, or to be challenged? What inspires you to action or cautions you to re-think your choices? What helps you discern your direction in life? Sustains you in a crisis? Join us for an informal Sunday morning that invites you into reflection and into community.
Westwood Unitarian Congregation is a compassionate community of free religious thought, inviting all people to rest, grow, and serve the world. We welcome all people of good will whatever their culture, colour, class, age, religion, gender expression, wealth, or the direction of their affections. We hold weekly services Sunday at 10:30 AM MT, plus a variety of other events.
We hope you enjoy this recording of our in-person and Zoom service. 
Please feel free to share this recording link with your friends and on social media.

We hope to see you live and online, every Sunday, 10:30 AM MT. (Zoom "doors" open at 10 AM.) 
Westwood Unitarian Facebook Page 
Westwood Unitarian YouTube Channel