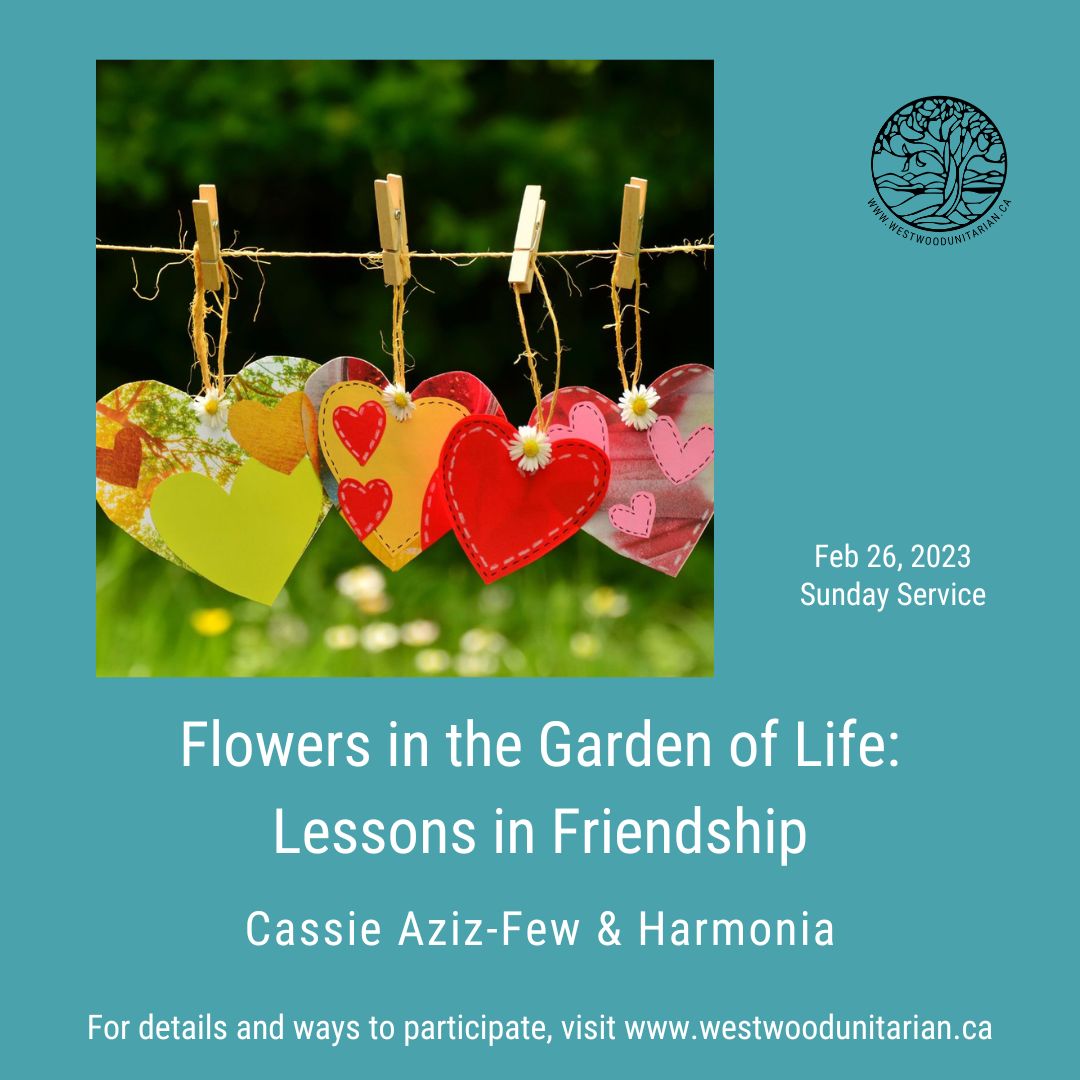 Recording "Flowers in the Garden of Life: Lessons in Friendship," Cassie Aziz-Few & Harmonia, Feb 26, 2023
February 26, 2023 at 10:30 AM MT

Topic: Flowers in the Garden of Life: Lessons in friendship from a life-long learner
What did YOU learn during the Pandemic lockdowns? (Heads up, I'm not talking sourdough bread or Lego mansions here!)
Friends are like gold in your emotional bank, so we'll take the pulse of the kinds of friendly relationships that have helped populate our lives over the years so helping to create our own personal social stories.
We'll also consider some potential "Do's" and "Don'ts" from someone who has made her share of missteps along the way.
Speaker: Cassie Aziz-Few

Service Leaders: Members of Harmonia

Music: Harmonia, led by Rebecca Patterson and accompanied by Julie Forbes

Technicians: Hannah, Carl Ulrich, Bill Lee
Where do you turn for strength, wisdom, comfort, or to be challenged? What inspires you to action or cautions you to re-think your choices? What helps you discern your direction in life? Sustains you in a crisis? Join us for an informal Sunday morning that invites you into reflection and into community.
Westwood Unitarian Congregation is a compassionate community of free religious thought, inviting all people to rest, grow, and serve the world. We welcome all people of good will whatever their culture, colour, class, age, religion, gender expression, wealth, or the direction of their affections. We hold weekly services Sunday at 10:30 AM MT, plus a variety of other events.
We hope you enjoy this recording of our in-person and Zoom service. 
Please feel free to share this recording link with your friends and on social media.

We hope to see you live and online, every Sunday, 10:30 AM MT. (Zoom "doors" open at 10 AM.) 
Westwood Unitarian Facebook Page 
Westwood Unitarian YouTube Channel