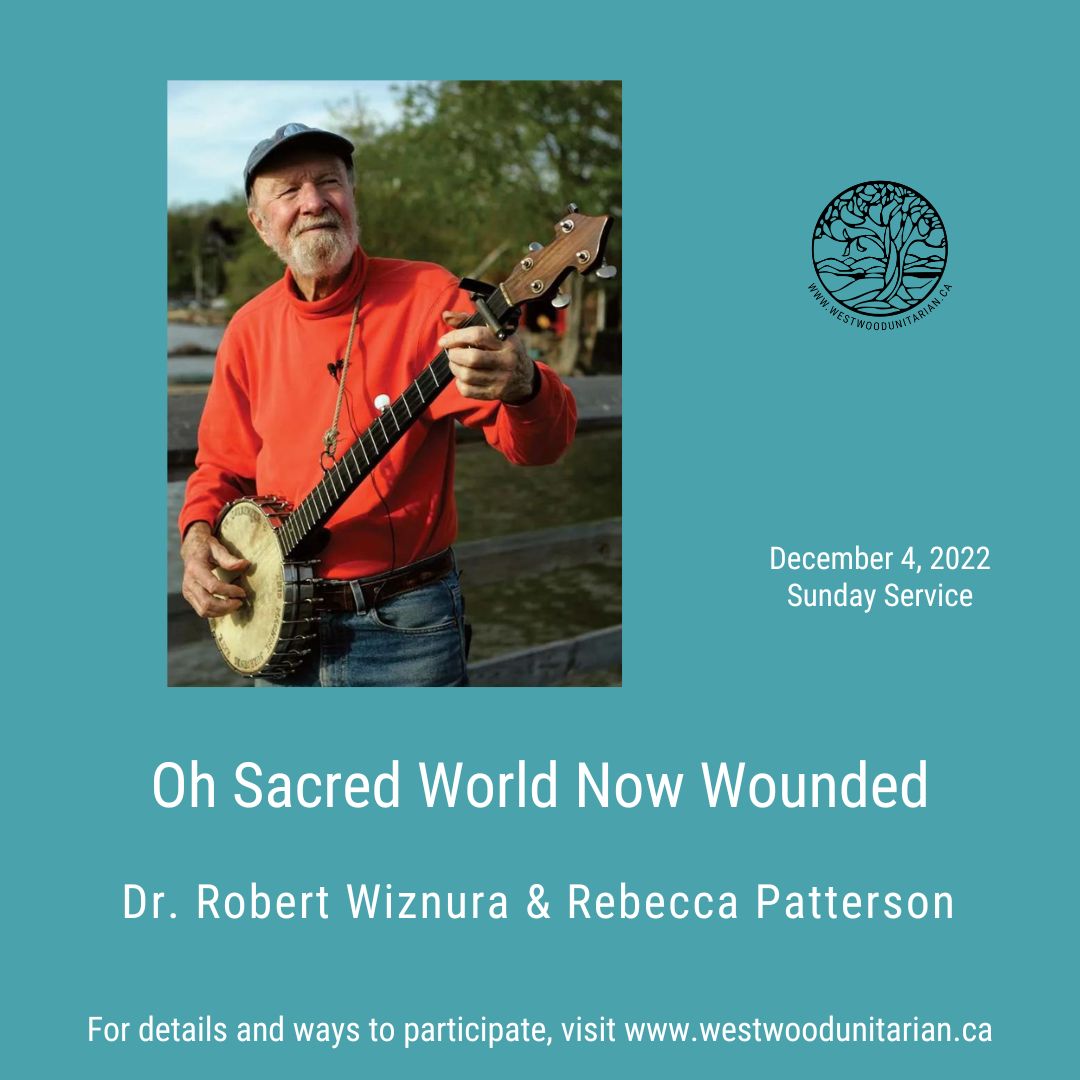 Recording "Oh Sacred World, Now Wounded — Pete Seeger, Part 2," Dr. Robert Wiznura & Rebecca Patterson, Dec 4, 2022
December 4, 2022 at 10:30 AM MT

Topic: Oh Sacred World, Now Wounded — Pete Seeger, Part 2

The image of Pete Seeger—for those who still have an image of Pete—is an old, skinny guy with a banjo who, somehow, gets everybody singing: all ages and persuasions. His songs were/are songs of awareness and hope. Just think of some lines from his songs and you'll get a sense of where we are going: "when will we ever learn" "and because I love you, I'll give it one more try," "and when we wing another little victory song/Precious friend you will be there." In a bruised, battered, beaten down community or world, Pete reminds us to look at each other and … sing out our problems and sing our way towards a new and better world.

This is the second of four services that will do just that: getting us to be an "us" and to sing songs until they feel like friends, giving us the courage to try a little harmony (and maybe even succeeding), letting us experience a room shaking and rocking with human potential. Indeed, "I've got a hammer and I've got a bell and I've got a song to sing."

Missed the first one? No worries, come along and join right in.
Speaker & Musician: Dr. Robert Wiznura

Service Leader: Rebecca Patterson
Service Techs: Hannah, Lorian Kennedy & Bill Lee
We hope you enjoy this recording of our in-person and Zoom service. 
Please feel free to share this recording link with your friends and on social media.

We hope to see you live and online, every Sunday, 10:30 AM MT. (Zoom "doors" open at 10 AM.) 
Westwood Unitarian Facebook Page 
Westwood Unitarian YouTube Channel