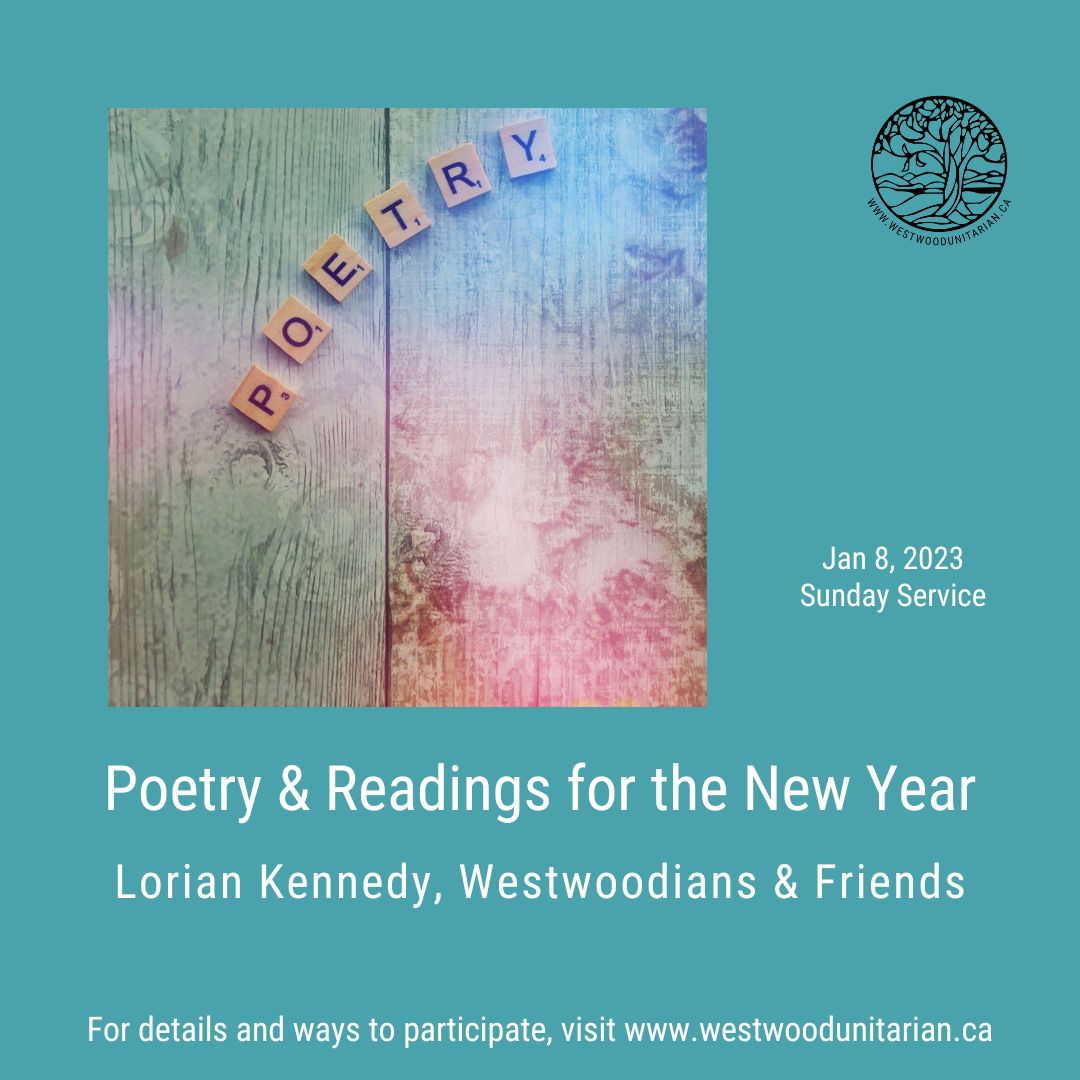 Recording "Poetry & Readings for the New Year," Lorian Kennedy, Westwoodians, & Friends, Jan 8, 2023
January 8, 2023 at 10:30 AM MT

Topic: Poetry & Readings for the New Year

Do you launch into each new year renewed and inspired? Or does the new year with all its expectations overwhelm you and make you want to crawl into a cocoon until spring?
It's the inaugural Westwood Poetry Slam! On January 8 you are invited to share a piece of poetry or short prose that expresses your feelings about the new year. It can be classic or contemporary, contemplative or humorous. It can address the topic of the new year directly, or it can deal with universal themes. Maybe you will share some writing you yourself created. If you are shy to read in public, we will find someone to share your poem for you. Westwood poetry lovers will be supplying the content for our January 8 service.
Service Leader: Lorian Kennedy

Musician: Sheila Killoran
Technicians: Hannah, Rebecca Patterson, Bill Lee
Where do you turn for strength, wisdom, comfort, or to be challenged? What inspires you to action or cautions you to re-think your choices? What helps you discern your direction in life? Sustains you in a crisis? Join us for an informal Sunday morning that invites you into reflection and into community.
Westwood Unitarian Congregation is a compassionate community of free religious thought, inviting all people to rest, grow, and serve the world. We welcome all people of good will whatever their culture, colour, class, age, religion, gender expression, wealth, or the direction of their affections. We hold weekly services Sunday at 10:30 AM MT, plus a variety of other events.
We hope you enjoy this recording of our in-person and Zoom service. 
Please feel free to share this recording link with your friends and on social media.

We hope to see you live and online, every Sunday, 10:30 AM MT. (Zoom "doors" open at 10 AM.) 
Westwood Unitarian Facebook Page 
Westwood Unitarian YouTube Channel