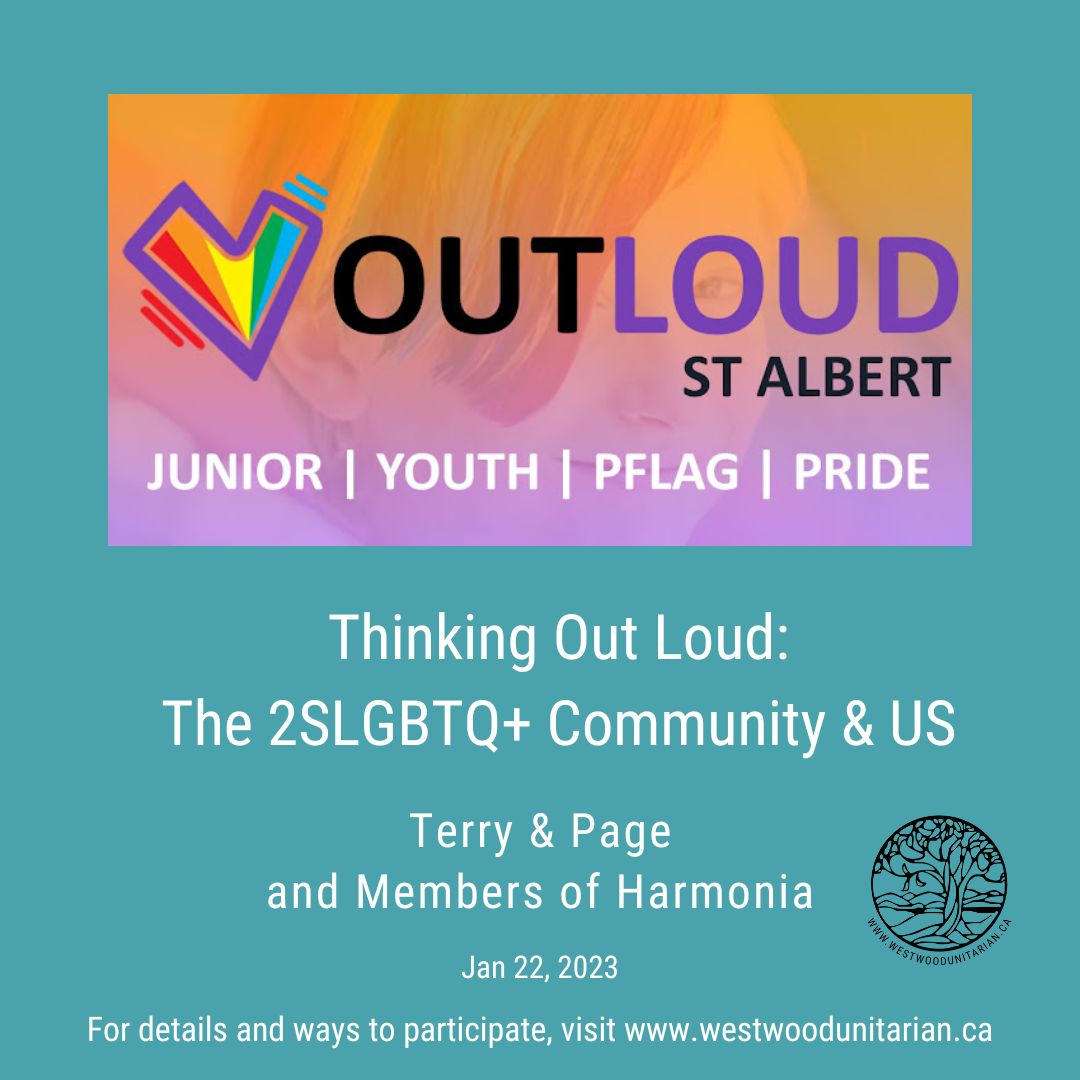 Recording "Thinking Outloud: The 2SLGBTQ+ Community and Us," Outloud Foundation for 2SLGBTQ+ Community, Jan 22, 2023
January 22, 2023 at 10:30 AM MT

Topic: Thinking Outloud: The 2SLGBTQ+ Community and Us
Outloud St Albert is a group established several years ago to support the needs of the 2SLGBTQ+ community. Terry and Paige will bring us information about Outloud and how we can provide support, as well as talking about current issues and concerns for the Queer community. An opportunity for questions will follow the talk.
Guest Speaker: Terry & Page, Outloud Foundation for 2SLGBTQ+ Community, St. Albert

Service Leader: Members of Harmonia

Musician: Harmonia & Julie Forbes

Technicians: Hannah, Lorian Kennedy, Bill Lee
Where do you turn for strength, wisdom, comfort, or to be challenged? What inspires you to action or cautions you to re-think your choices? What helps you discern your direction in life? Sustains you in a crisis? Join us for an informal Sunday morning that invites you into reflection and into community.
Westwood Unitarian Congregation is a compassionate community of free religious thought, inviting all people to rest, grow, and serve the world. We welcome all people of good will whatever their culture, colour, class, age, religion, gender expression, wealth, or the direction of their affections. We hold weekly services Sunday at 10:30 AM MT, plus a variety of other events.
We hope you enjoy this recording of our in-person and Zoom service. 
Please feel free to share this recording link with your friends and on social media.

We hope to see you live and online, every Sunday, 10:30 AM MT. (Zoom "doors" open at 10 AM.) 
Westwood Unitarian Facebook Page 
Westwood Unitarian YouTube Channel