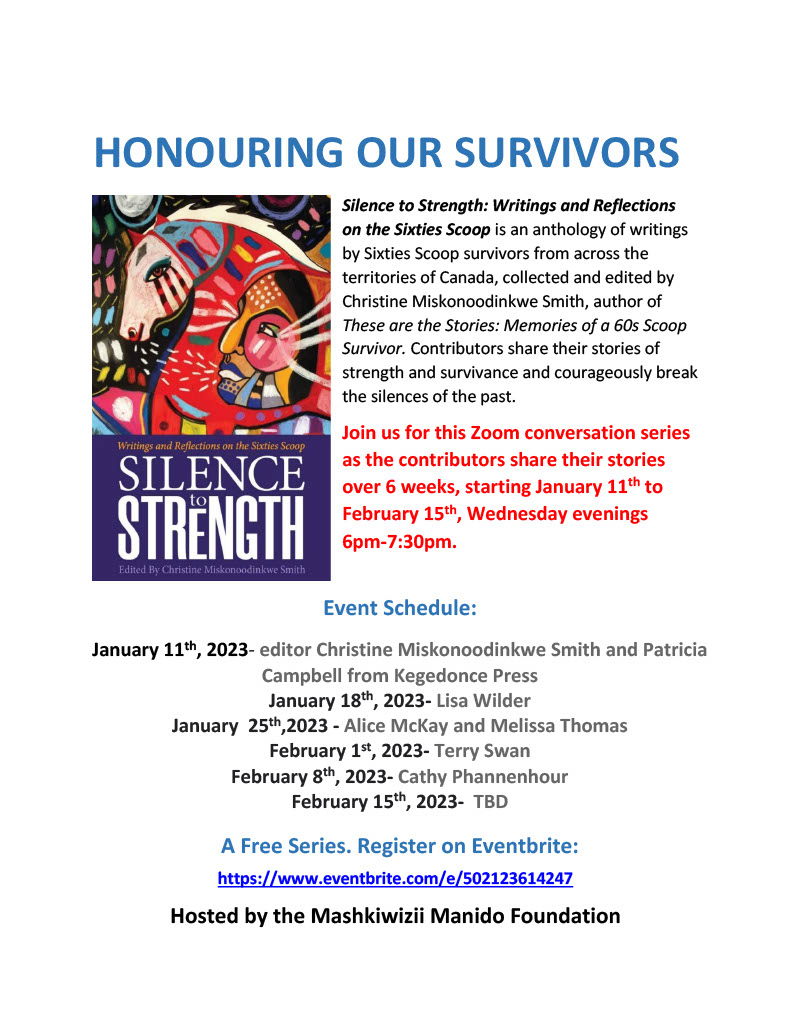 You are invited: note the time is in Eastern Standard Time
Free Event with tickets & Zoom link available through Eventbrite.
Choose one or more dates as your time permits.
Join us on on Zoom, Wednesday evenings starting January 11th until February 15th, 6pm-7:30pm EST via zoom with Mashkiwizii Manido Foundation's host and 60's Scoop Survivor Cathy Phannenhour as we listen to the authors share their stories, a part of their lives, and their resilience. Followed by open discussion.
Some of our featured authors include: Christine Miskonoodinkwe Smith, Cathy Phannenhour, Lisa Wilder, Terry Swan, Alice McKay, Tyler Pennock
January 11th- Author and Editor Christine Miskonoodinkwe Smith and Publisher Patricia Campbell from Kegedonce Press join our Host and Author Cathy Phannenhour for our kick off event.
January 18th, 2023- Author Lisa Wilder, David Mortimer
January 25th, 2023- Author Alice McKay, Melissa Thomas (Sigvaldason)
February 1st, 2023- Author Terry Swan
February 8th, 2023-AuthorTyler Pennock
February 15th, 2023- Panel Discussion/Q&A