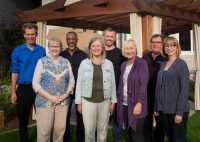 Here of some highlights of the January 2017 Board Meeting:
The Board discussed and addressed the health issue and condition of our aging chairs and decided to purchase new chairs and implement an "adopt a chair" program.

We engaged with COSM (Committee on Shared Ministry) in the annual review of our professional minister

Motion passed to affirm new member, Dawn McLean. Welcome Dawn!

Kudos to all who helped make the Solstice Service at City Hall in December a success!

Save the Date:

 

April 21st Westwood Fundraiser Dinner and Auction @ Dayspring United in Terwilliger !

Discussion on our financial situation says we are on track currently!