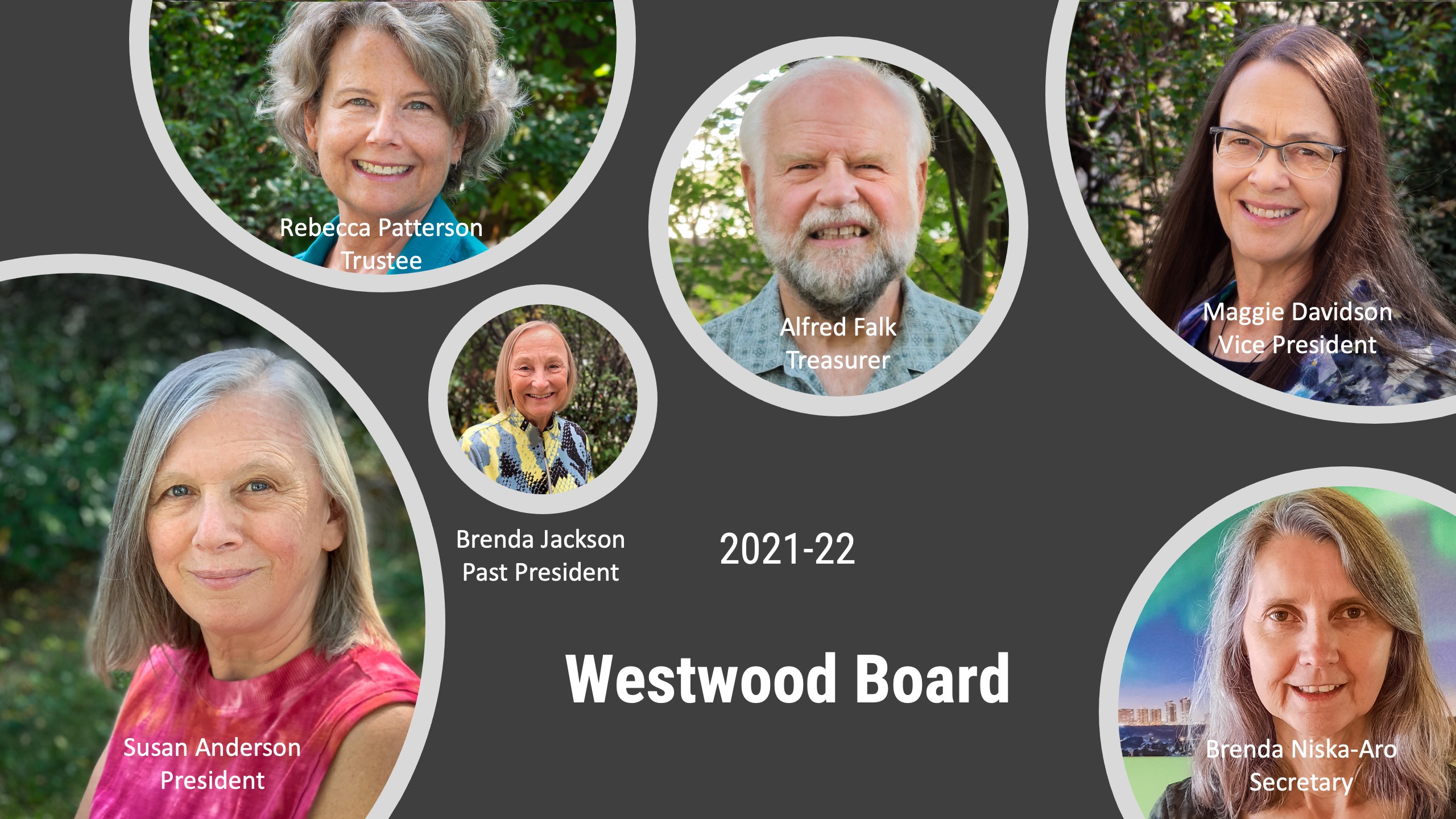 Sounding Board, June 2022, Updated
The Board would like to give a big thanks to all the Westwood members who attended our Annual General Meeting on Sunday May 29.  This is a year of many changes and reflecting on the future of Westwood and we appreciate all your comments and advice.

We are also pleased to announce the Board for 2022-2023.
- President - Lorian Kennedy
- Vice-President - Maggie Davidson
- Secretary - Brenda Niska-Aro
- Treasurer - Alfred Falk
- Past President - Susan Anderson
- Trustee - Rebecca Patterson
- Trustee - Carl Ulrich
- Trustee - Jacqueline Willette
- Trustee - Virginia Gillese

The Board Retreat will take place online on zoom, June 27 and 28 at 5:30 PM.

Westwood turned 40 this year on June 12th! There will be a BBQ and celebration held on August 28, 2022 at the Riverdale Rink Shack House from 4 to 8 PM. 

Come Celebrate Rev. Anne Barker! 
Time has moved so fast and it's hard to believe that our final service with Rev. Anne will be taking place on June 19th. 
The zoom Service will take place at 10:30 AM including a completion ritual for Rev. Anne. There will then be time to share your gratitude and reflections on the 14 years we were so fortunate to have shared together. 
In the afternoon, there will be an in-person gathering taking place at Westwood from 2:00 PM to 4:00 PM. During the reception, we will have a short ceremony and words for Rev. Anne and Ilara at 3:00 PM.
This will be the last time to celebrate and visit with Rev. Anne, Lori and Ilara, before they move onto their new adventures.

Welcome back to our Summer Serendipity services taking place from June 26th to September 4th on Sunday mornings from 10:30 to 11:30 AM. Serendipity services are informal gatherings where people have the opportunity to connect and share their joys and concerns, in person and possibly online. These services can only happen if a Westwood member or friend is willing and able to host. 
One person is needed each week:
- open the building,
- set out the chalice and candles,
- provide a lead in for the discussion (help & suggestions available),
- ensure things are put away and the building locked after.
https://www.signupgenius.com/go/10c0d4aa4a72ba4fac52-summer

Stewardship - Help Us Write Westwood's Next Chapter!
Westwood's 2022-23 Stewardship Campaign is ongoing through June. A Big Thank-You to all members and friends who have supported our campaign and already made their commitment to Westwood for the next fiscal year. If you have not done so, we invite you to review your pledge for the 2022-2023 year. If you are maintaining your pledge, we thank you for your continuing. We continue to welcome all your pledges including financial and volunteer efforts, and hope to have a full response by June 24.

Casino Save the Date: December 30th and 31st, Westwood is hosting our next casino event at PURE Casino (Argyll Road). Follow the link and "Sign Up" to input your information. https://www.signupgenius.com/go/10c0d4aa4a72ba4fac52-casino

Brenda Niska-Aro
Secretary
I respectfully acknowledge that I am living on the traditional land of Treaty 6 and home of the Métis Nation.