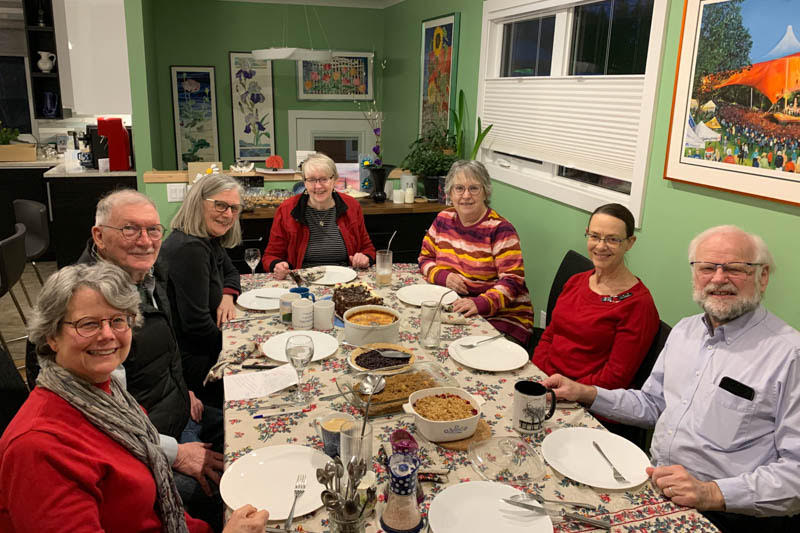 Everyone probably knows how tough it is to be on a board – all those weighty decisions. On March 11, the board met for a social potluck, hosted by Jacqueline and Miguel. We were faced with choosing from a selection of FIVE desserts. The unanimous decision? Let's have them all!
Photo credit (co-host Miguel), Head swapping in Photoshop for best visuals (Lorian), Unable to attend: Brenda and Virginia.
This month's Board Meeting on March 9 was, as usual, lively and full of interesting discussion. The board will be meeting next week with a marketing expert to explore options to effectively communicate who we are and what we offer to the community.
Thank you again to everyone who volunteered for our casino in December. The funds have been received from AGLC and account for approximately one-third of our annual budget over the next two years. Which brings us to Stewardship! This year's theme is Spirit of Community: The Way Leads On! Please consider increasing your financial support for Westwood according to your means and the meaning of Westwood in your life. This link suggests a formula for deciding on a financial pledge: Fair Share Giving Guide – Westwood Unitarian Congregation. For those who donate by automatic debit, if we do not hear from you we will assume you wish to maintain the same level of giving.
Beyond Land Acknowledgments, the speaker series sponsored by our Truth, Healing and Reconciliation group, began last month and by all accounts, the first session was enthusiastically received, as we learned about the indigenous history of the very land on which Westwood stands. The next speaker, on Sunday, April 16, is Papaschase First Nation 136 Chief Darlene Misik. As a positive spin-off from the relationships being formed through the speaker series, your board voted to offer office space for one day a week to Papaschase First Nation 136, which will allow for a variety of interesting activities to develop out of Westwood, including indigenous language, art and cultural classes, among other possibilities.
The Canadian Unitarian Council's Annual General Meeting is scheduled for Friday, May 19. Prior to that date, the congregation will be asked for feedback on a number of resolutions that will be voted on by the representatives of congregations across Canada, including our two delegates. If you wish to read the background, as well as the wording of the resolutions themselves, click on this link.
Feedback received by March 21 will be used to make any necessary revisions before the AGM. There will be an opportunity during March 19's coffee hour after the Sunday service for anyone who wishes to talk about the resolutions. Westwood's Social Justice Committee already considered the resolution to repudiate the Doctrine of Discovery and recommends that we vote in favour of it.
Westwood's own Annual General Meeting will take place on May 28 right after the Sunday service. Please save the date! A light lunch will be served on that day. If you are interested in serving on the Board, a very rewarding and social experience (see photo!), please let a Board Member know. We are particularly seeking an individual with some accounting know-how to take on the role of Treasurer.
Finally, a very special appreciation goes out to David Williamson, who has volunteered to be our coffee host. Please get in touch with him if you would like to help. Thank you so much, David! We love our Sunday conversations even more with a hot cup of something in our hands!