• The Board met for a Saturday morning meeting for a delicious breakfast prepared by Jacqueline (one of the perks of being on the Board). Unfortunately, Miguel and Leigh were not able to attend.
• We discussed a new, detailed proposal for an accessible washroom on the main floor and are interested in it but we will need to consult with the congregation further so we can consider the long-range impacts and additional funds required. We will bring this forward at the Annual Congregational meeting in May.
• Our administrator has arranged for improved wi-fi without added cost (hurray!). Please let the Board know how this is working out.

• The Shaun Loney Social Enterprise workshop weekend was energising and was seen as motivational, valuable and had great engagement from both inside and outside the Westwood community. It is an important aspect of our What's Next program and generated many ideas. There are more ideas to come so stay tuned and watch for dates for follow-up meetings.
• Save Friday, April 26th evening for a celebratory event to mark the round-up of our Stewardship program.
• We are holding a special congregational meeting on February 17th to discuss resolutions that will be voted on at the Canadian Unitarian Council annual meeting in May so we understand the issues and our delegates can vote with our wishes in mind. The Board appointed Michael Gallagher as the "Voting Manager" for our online participation in the May annual meeting. Carl Ulrich is one of our delegates and there is still an opening for one more. If you are interested, please contact Carl soon to arrange registration. You may participate online from Westwood on May 11th from 11 AM to 2 PM Mountain time.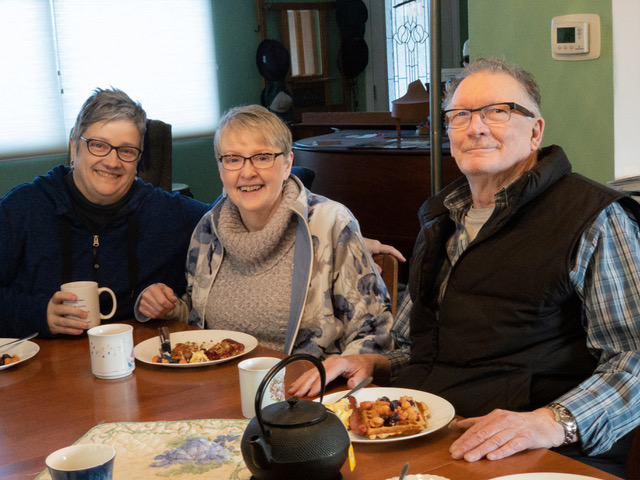 • The Building Bienvenue dinner and entertainment at UCE on January 25th, followed by Rev. Fulgence Ndagijimana's service on the 27th, was successful, supporting the goal of providing an online Francophone UU service that will be available around the world as La Communauté sans frontiers unitariènne universalist. A big thank you to all the people who participated.
• Winterbuster FUNdraiser dinner and auction ticket sales are going well. A list of auction items can be viewed here.