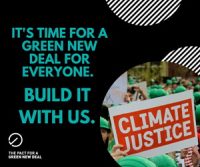 The Council of Canadians is calling upon all sectors of society to launch the Year of the Green New Deal. Climate crisis is a reality with Canada warming at twice the global rate. Survival is on the line.
The Green New Deal is "a vision of rapid, inclusive and far-reaching transition, led by the federal government, to slash emissions, meet the demands of the multiple crises we face and create over a million jobs in the process. It would involve dozens of pieces of legislation, new programs and institutions, and a huge mobilization calling on the creativity and participation of all of us." This movement must be led from the ground up.
The Council of Canadians asks all politicians and political parties to respond to the demands of the people with a Green New Deal that rests on two fundamental principles:
It must meet the demands of Indigenous knowledge and science and cut Canada's emissions in half in 11 years.
It must leave no one behind and build a better present and future for all of us. That means beginning with the foundational rights and sovereignty of Indigenous communities, including full implementation of the UN Declaration of the Rights of Indigenous People and the right to Free, Prior and Informed Consent, as well as full implementation of the Truth and Reconciliation 94 Calls to Action. It means ensuring that solutions are universal and far-reaching. It means, as we transform our systems of transit, energy, housing, food and agriculture, and public services, that we're creating dignified work that can support families. It means no migrants are exploited because their status is precarious, and no resource workers are asked to sacrifice hard-won wages and benefits as they work in new industries. It means making all our communities healthier. It means reconnecting and feeling safe again. It means all of society heeding the call from young people, and coming together with a plan to sustain this generation and the seven that come after it. A Green New Deal must lift us all, together.
Three things congregations can do:
Sign the pact for a Green New Deal
Spread the word with this graphic
Send a message to your members (draft messages)