CUC Vision Statement
As Canadian Unitarian Universalists, we envision a world in which our interdependence calls us to love and justice.
As Canadian Unitarian Universalists, we aspire to be:
Deeply Connected: We strive to foster healthy relationships amongst and within UU communities, with the broader world and with all life. Nous travaillons à cultiver des relations saines entre nous, parmi nos assemblées, avec la société et toute la vie qui nous entourent.
Radically Inclusive: We strive to create hospitable, diverse, multi- generational communities. Nous travaillons à créer des communautés accueillantes, diverses, et multigénérationnelles.
Actively Engaged: We strive to work joyfully for a just and compassionate society, experimenting with new forms of community. Nous travaillons joyeusement pour une société plus juste et compatissante, et nous explorons de nouvelles façons d'être en communauté.
Theologically Alive: We seek to be ever-evolving in our understanding, open to new knowledge. Nous cherchons à évoluer continuellement dans notre façon de voir, toujours ouverts à de nouvelles connaissances et perspectives.
Spiritually Grounded: We seek transformation through personal spiritual experiences and shared ritual. Nous cherchons la transformation à travers les expériences spirituelles personnelles et le rituel partagé.
Canadian Unitarian Council (CUC)
What is the Canadian Unitarian Council?
The Canadian Unitarian Council (CUC) is the national Unitarian Universalist (UU) body that supports Canadian Unitarian Universalist congregations and facilitates Unitarian Universalists from across Canada in expanding their UU roots and connecting with each other.
Our congregation is part of a wider family of Canadian Unitarian and Universalist congregations and communities in Canada. These make up the Canadian Unitarian Council (CUC), the national association of member congregations. The CUC, as the national office, is a voice for our vibrant, liberal faith community, within the interfaith community in Canada, and within the international UU community.
As a member of your congregation, by extension, you also have a relationship with the CUC.
Find out more about what it means to live your deepest values out loud in our "We Are Canadian Unitarian Universalists" video.
What does the CUC Do?
The CUC, through its small but dedicated staff, provides support for congregations and UU leaders across the country, fostering growth, vitality, and resilience. This support and engagement include board governance, financial sustainability, ministerial transitions, lifespan religious education, youth and young adult engagement, spiritual growth, social justice, refugee sponsorship, truth and reconciliation with Indigenous and non-Indigenous peoples, and more.
Full details about CUC programs and resources are available on the website, www.cuc.ca, especially in the Congregations and Leaders section.
The CUC's Board of Trustees is elected at the Annual General Meeting, attended by delegates from congregations across the country. The Board is responsible for governing the organization and sets long term visions and goals, and monitors the outcomes.
Find out more about how the CUC is governed, and about its Board of Trustees.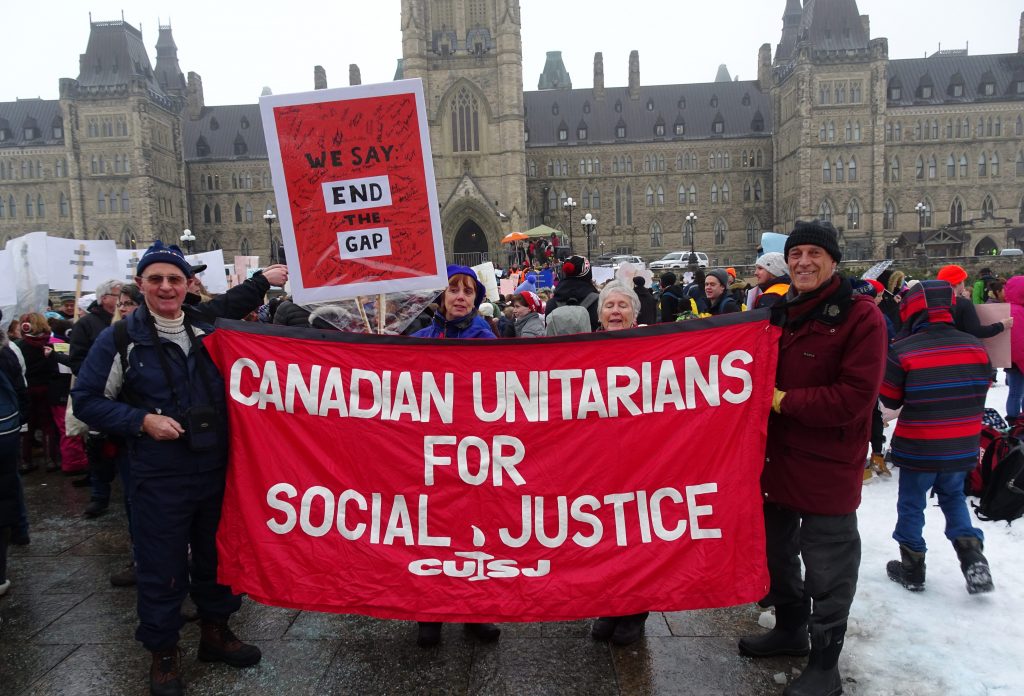 CUC Events
The CUC's Annual General Meeting takes place in May each year. Business is conducted, resolutions and budgets are passed, and the Board of Trustees is elected and sworn in.
Every other year, the CUC's National Conference is held at a different location across the country. This biennial event brings together UUs of all ages to learn, laugh, worship and share meals together. Each conference is focused on a different theme.
Check out the Canadian Unitarian Council website for information about the CUC plus many Unitarian Universalist resources & links! To see a complete listing of Canadian Unitarian Universalist congregations, go to the CUC's Congregations page.
Videos about Unitarian Universalists
We are Canadian Unitarian Universalists (video)
Why are we Unitarian-Universalists? (video)
Unitarian Universalism as an Open Source Faith (video)
Westwood & the CUC
Westwood is a member of the Canadian Unitarian Council (CUC). The CUC holds a Bi-annual Conference and Meeting in May. Westwood sends two delegates to represent Westwood in the votes and discussions held at the business meeting. Westwood's Social Justice Committee discusses and makes recommendations to Westwood's delegates on the social justice resolutions presented at the meeting.
Westwood is part of the CUC Western Region. The Western Regional Fall Gathering is held annually in October.
There is often funding available or Westwoodian carpooling potential for CUC events. Check with the Board or Reverend Anne for information if you're interested in attending.
Westwood Social Justice Committee members are expected to annually renew their membership to  Canadian Unitarians for Social Justice (CUSJ). This is a nationwide group, affiliated with but separate from the Canadian Unitarian Council which applies Unitarian principles through advocacy, lobbying, and education. CUSJ has a blog.
CUC Youth
CUC Youth Ministry serves teens and young adults ages 14 – 20. It provides opportunities for youth to go deeper in their spiritual and ethical development, to develop leadership skills, and to make broader connections with youth and youth advisors nation-wide.
Ariel Hunt-Brondwin is the CUC staff member who focuses on Youth and Young Adult Ministry Development.
Youth events include Youth Con at Regional Gatherings, CanUUdle at the CUC Annual Conference and Meeting, and other interesting workshops throughout the year. Youth Connect through Facebook or through your choice of email listserves.
CUC Children
CUC events like the Annual Conference and Meeting or Regional Fall Gatherings have great children's programs!
Take a closer look at the event information to see what they have to offer kids and junior youth.
Additional child care during these events is available at reasonable rates.
Recent Posts from the CUC and our US Friends in the Unitarian Universalist Association (UUA).
May 24, 2019
No Comments
We hope many of our current and emerging leaders will be able to take advantage …
May 20, 2019
No Comments
Annual Report on CUC's Truth, Healing and Reconciliation Initiative 2018-2019 By: Rev Meg Roberts The …
May 20, 2019
No Comments
The Sharing Our Faith program provides funds for congregational initiatives which enhance ministry, aid congregational projects …
May 15, 2019
No Comments
The Council of Canadians is calling upon all sectors of society to launch the Year …
CUC Grant Programs
The CUC manages a variety of grants to support congregational outreach, innovation, and seminarians. Descriptions and application information for each fund are below.
The Sharing Our Faith program provides funds for congregational initiatives which enhance ministry, aid congregational projects and outreach, and enhance the Unitarian Universalist movement in Canada. Once a year, congregations are encouraged to hold a "Sharing Our Faith" worship service focused on the UU faith in Canada, with a special collection for the Sharing Our Faith fund. The fund consists of these monies, supplemented by a Foundation Fund administered by the First Unitarian Congregation of Toronto. The funds are allocated in the form of grants to congregations for growth projects and initiatives.
Grant applications are due by March 31 of each year with all required documents. Completedapplications can be e-mailed to sharing-our-faith@cuc.ca. Please note that Sharing Our Faith grants are normally under $5,000. For a larger grant, your congregation may want to consider applying for the Northern Lights award (see below).
CUC Theological Education Funds (TEF) bursaries are intended to assist Canadian Unitarian Universalists with expenses incurred while studying for the ministry. In special circumstances, applicants who have achieved only aspirant status may be approved. Disbursements are made by the CUC Board on the recommendation of the Board's Theological Education Committee. Application form and more information
The CUC's Northern Lights team is looking for ambitious, innovative projects that can make a real difference. The Northern Lights Team welcomes applications for projects worth $5,000 or greater. For smaller projects, there are the Sharing Our Faith grants.
Please alert us by February 1, 2019, at northernlights@cuc.ca that you intend to apply for Northern Lights support. The full application is due by March 31. To qualify for Northern Lights support, a congregation must have at least 20% of its members registered as Chalice Lighters.