This archive allows us to share with people who couldn't attend a Sunday Service for whatever reason and, for those who attended, to re-live some of our favourite Westwood topics and services.
If you are searching for a particular sermon or speaker, you can use the website search tool by clicking on the Magnify Icon at upper right of every page on this website.
To view our full recordings archive, please visit our YouTube Page!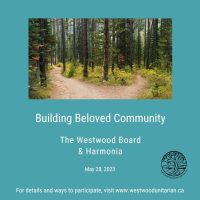 May 28, 2023 at 10:30 AM MT Topic: Building Beloved Community Where are we going? Who are we? and other questions that might be on your mind. The Westwood Board and Harmonia will be leading this joyful celebration of our beloved community and looking at our current path. Speakers & Service Leaders: The Westwood Board Music: Harmonia with Rebecca Patterson & Julie Forbes Technicians: Hannah, Carl Ulrich, Bill Lee We hope you enjoy this recording of our in-person and Zoom service.  Please feel free to share this recording link with your friends and on social media. We hope to see
Read More »