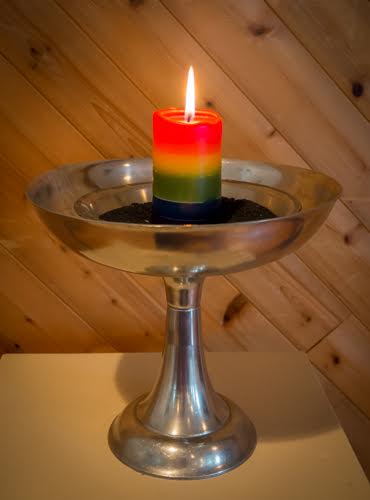 We request that people please refrain from wearing perfumes, perfumed body products, or any other scented products at Westwood. There are those among us for whom illness is triggered by smoke and scents. Thank you for your consideration and cooperation.
Worship and inspiration remind us what matters most in life, and are central to Unitarian Universalist faith and practice. Both as individuals and as communities, they give us opportunities to go deeper with the biggest questions of meaning, purpose and possibility.  -UUA worship & inspiration portal
Our worship committee is responsible for the services. If you have questions, comments or ideas about worship at Westwood, please send them an e-mail, worship@westwoodunitarian.ca , or leave a message in the office at (780) 434-5819.
Special Services & Seasonal Celebrations
In the first regular service after the summer break (September), we share stories of our summer experiences and reconnect for the coming year.
On the darkest day of the year – come and share the light with us! Westwood has held annual celebrations of Winter Solstice since 1987.  Enjoy a time of music, story, and celebration as we reaffirm our ties with nature and celebrate the return of light and longer days.
For information about this year's winter solstice celebration, visit Westwood's calendar.
Flower Communions are a long standing Unitarian tradition. By exchanging flowers, we show our willingness to walk together in our search for truth, disregarding all that might divide us. Each person takes home a flower brought by someone else – thus symbolizing and celebrating our community.
In June, we sometimes have a joyful celebration in the neighbourhood park with song and dance to mark the beginning of summer and longest day of the year.
For information on this and other Pagan and Earth-Centred Celebrations:
Contact anne@westwoodunitarian.ca 
Unitarians offer celebrations of life's passages: birth and naming, marriage or partnership, memorial and interment services, home blessings and more.