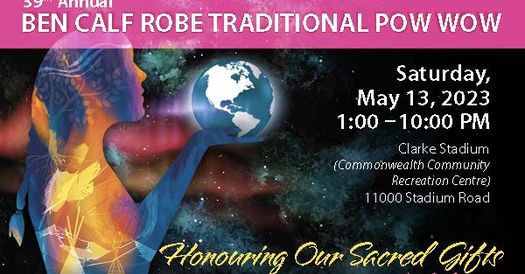 Ben Calf Robe Traditional Pow Wow
39th Annual Ben Calf Robe Traditional Pow Wow
Saturday, May 13, 2023 – 1:00 pm -10:00 pm

CLARKE STADIUM-EDMONTON, ALBERTA

HOST DRUM: CREE CONFEDERATION

EMCEE: Hal Eagletail & Elmer Rattlesnake
ARENA DIRECTOR: George Desjarlais

Edmonton Catholic Schools & Indigenous Learning Services, in partnership with the Ben Calf Robe Society and the City of Edmonton, invite all members of Edmonton and surrounding communities to join us for the 39th Annual Ben Calf Robe Traditional Pow Wow!

The Pow-wow will feature a variety of dancers, drummers, artisans and food vendors. Grand Entries will be held at 1p.m. and 6p.m.

EVERYONE IS WELCOME-BRING A FRIEND!