FreeThinker Book Club Selections 2021-2022
The FreeThinker book club : Last Wednesday of the month September through June.
 FreeThinker Book Club meetings will be held either online using ZOOM videoconferencing or at Westwood depending on pandemic and our experiment with shifting between online and in-person,
Wednesday Sept. 29, 2021
7:00 PM
The Hidden Life of Trees: What they Feel, How they communicate: Discoveries from a Secret World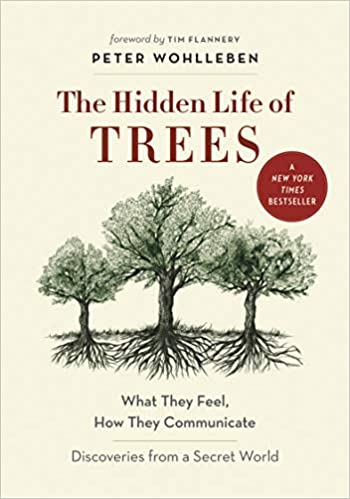 With more than 2 million copies sold worldwide, this beautifully-written book journeys deep into the forest to uncover the fascinating-and surprisingly moving-hidden life of trees.
"At once romantic and scientific, [Wohlleben's] view of the forest calls on us all to reevaluate our relationships with the plant world."?Daniel Chamovitz, PhD, author of What a Plant Knows
Are trees social beings? In The Hidden Life of Trees forester and author Peter Wohlleben convincingly makes the case that, yes, the forest is a social network. He draws on groundbreaking scientific discoveries to describe how trees are like human families: tree parents live together with their children, communicate with them, support them as they grow, share nutrients with those who are sick or struggling, and even warn each other of impending dangers. Wohlleben also shares his deep love of woods and forests, explaining the amazing processes of life, death, and regeneration he has observed in his woodland.
After learning about the complex life of trees, a walk in the woods will never be the same again.
Includes a Note From a Forest Scientist, by Dr.Suzanne Simard
Published in Partnership with the David Suzuki Institute
The Gadfly Papers by Todd Eklof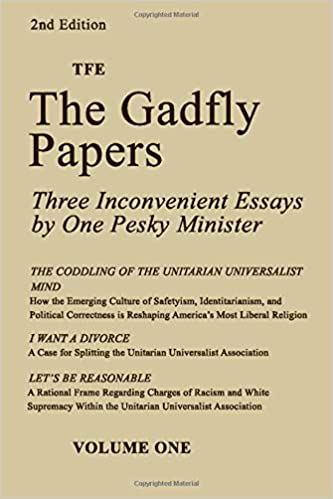 The text What is Humanism and Why Does it Matter was originally scheduled for discussion this month. However availability at public library and commercially is restricted. Thus we have voted to discuss the Gadfly Papers. The book is available for $7.99 on Amazon and can be downloaded for free as a PDF.
The Gadfly Papers is a collection of three essays written by Rev. Dr. Todd F. Eklof about the negative impacts the emerging culture of Political Correctness, Safetyism, and Identitarianism is having on America's most liberal religion. It's written specifically for Unitarian Universalists who care about the future of their faith, but will prove of interest to anyone seeking to understand how today's identity politics can fundamentally alter any institution, and presents a seminal case-study for researchers of this timely subject. The Gadfly Papers is a substantive, well argued work that's based on plenty of credible scholarship, yet is written in a conversational tone that makes its complex subject matter easy to understand. Whether you're a Unitarian Universalist, a student of history, social science, politics, or simply value the rare but refreshing application of logic, The Gadfly Papers is a book you won't put down until it's finished.
Cynical Theories - How Activist Scholarship Made Everything about Race, Gender, and Identity - and Why This Harms Everybody

Have you heard that language is violence and that science is sexist? Have you read that certain people shouldn't practice yoga or cook Chinese food? Or been told that being obese is healthy, that there is no such thing as biological sex, or that only White people can be racist? Are you confused by these ideas, and do you wonder how they have managed so quickly to challenge the very logic of Western society?
In this probing and intrepid volume, Helen Pluckrose and James Lindsay document the evolution of the dogma that informs these ideas, from its coarse origins in French postmodernism to its refinement within activist academic fields. Today this dogma is recognizable as much by its effects, such as cancel culture and social-media dogpiles, as by its tenets, which are all too often embraced as axiomatic in mainstream media: knowledge is a social construct; science and reason are tools of oppression; all human interactions are sites of oppressive power play; and language is dangerous. As Pluckrose and Lindsay warn, the unchecked proliferation of these anti-Enlightenment beliefs present a threat not only to liberal democracy but also to modernity itself.
While acknowledging the need to challenge the complacency of those who think a just society has been fully achieved, Pluckrose and Lindsay break down how this often radical activist scholarship does far more harm than good, not least to those marginalized communities it claims to champion. They also detail its alarmingly inconsistent and illiberal ethics. Only through a proper understanding of the evolution of these ideas, they conclude, can those who value science, reason, and consistently liberal ethics successfully challenge this harmful and authoritarian orthodoxy – in the academy, in culture, and beyond.
Special Double Hitter! Read One or Both!
1. A Good War: mobilizing Canada for the climate emergency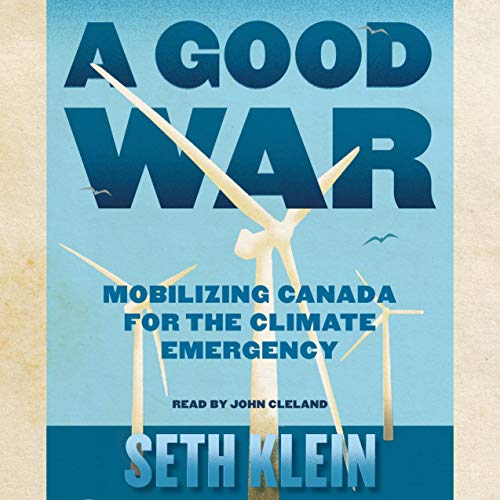 "This is the roadmap out of climate crisis that Canadians have been waiting for." (Naomi Klein, activist and New York Times best-selling author of This Changes Everything and The Shock Doctrine)
One of Canada's top policy analysts provides the first full-scale blueprint for meeting our climate change commitments
Contains the results of a national poll on Canadians' attitudes to the climate crisis
Shows that radical transformative climate action can be done, while producing jobs and reducing inequality as we retool how we live and work
Deeply researched and targeted specifically to Canada and Canadians while providing a model that other countries could follow
Canada needs to reduce its greenhouse gas emissions by 50 percent to prevent a catastrophic 1.5 degree increase in the earth's average temperature – assumed by many scientists to be a critical "danger line" for the planet and human life as we know it. It's 2020, and Canada is not on track to meet our targets. To do so, we'll need radical systemic change to how we live and work – and fast. How can we ever achieve this? 
Top policy analyst and author Seth Klein reveals we can do it now because we've done it before. During the Second World War, Canadian citizens and government remade the economy by retooling factories, transforming their workforce, and making the war effort a common cause for all Canadians to contribute to.
2. How to Avoid a Climate Disaster; the solutions we have and the breakthroughs we need.
n this urgent, authoritative book, Bill Gates sets out a wide-ranging, practical – and accessible – plan for how the world can get to zero greenhouse gas emissions in time to avoid a climate catastrophe.
Bill Gates has spent a decade investigating the causes and effects of climate change. With the help of experts in the fields of physics, chemistry, biology, engineering, political science, and finance, he has focused on what must be done in order to stop the planet's slide to certain environmental disaster. In this book, he not only explains why we need to work toward net-zero emissions of greenhouse gases, but also details what we need to do to achieve this profoundly important goal. 
He gives us a clear-eyed description of the challenges we face. Drawing on his understanding of innovation and what it takes to get new ideas into the market, he describes the areas in which technology is already helping to reduce emissions, where and how the current technology can be made to function more effectively, where breakthrough technologies are needed, and who is working on these essential innovations. Finally, he lays out a concrete, practical plan for achieving the goal of zero emissions – suggesting not only policies that governments should adopt, but what we as individuals can do to keep our government, our employers, and ourselves accountable in this crucial enterprise. 
As Bill Gates makes clear, achieving zero emissions will not be simple or easy to do, but if we follow the plan he sets out here, it is a goal firmly within our reach. 
Second Double Hitter! Read One or Both!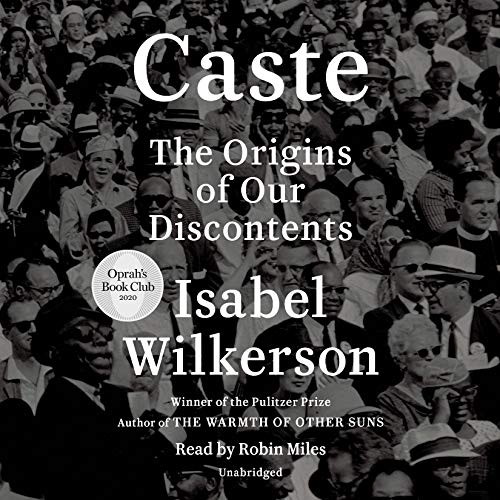 1. Caste: The Origins of our Discontents
In this brilliant book, Isabel Wilkerson gives us a masterful portrait of an unseen phenomenon in America as she explores, through an immersive, deeply researched narrative and stories about real people, how America today and throughout its history has been shaped by a hidden caste system, a rigid hierarchy of human rankings.
Beyond race, class, or other factors, there is a powerful caste system that influences people's lives and behavior and the nation's fate. Linking the caste systems of America, India, and Nazi Germany, Wilkerson explores eight pillars that underlie caste systems across civilizations, including divine will, bloodlines, stigma, and more. Using riveting stories about people – including Martin Luther King, Jr., baseball's Satchel Paige, a single father and his toddler son, Wilkerson herself, and many others – she shows the ways that the insidious undertow of caste is experienced every day. She documents how the Nazis studied the racial systems in America to plan their out-cast of the Jews; she discusses why the cruel logic of caste requires that there be a bottom rung for those in the middle to measure themselves against; she writes about the surprising health costs of caste, in depression and life expectancy, and the effects of this hierarchy on our culture and politics. Finally, she points forward to ways America can move beyond the artificial and destructive separations of human divisions, toward hope in our common humanity.
Beautifully written, original, and revealing, Caste: The Origins of Our Discontents is an eye-opening story of people and history, and a reexamination of what lies under the surface of ordinary lives and of American life today.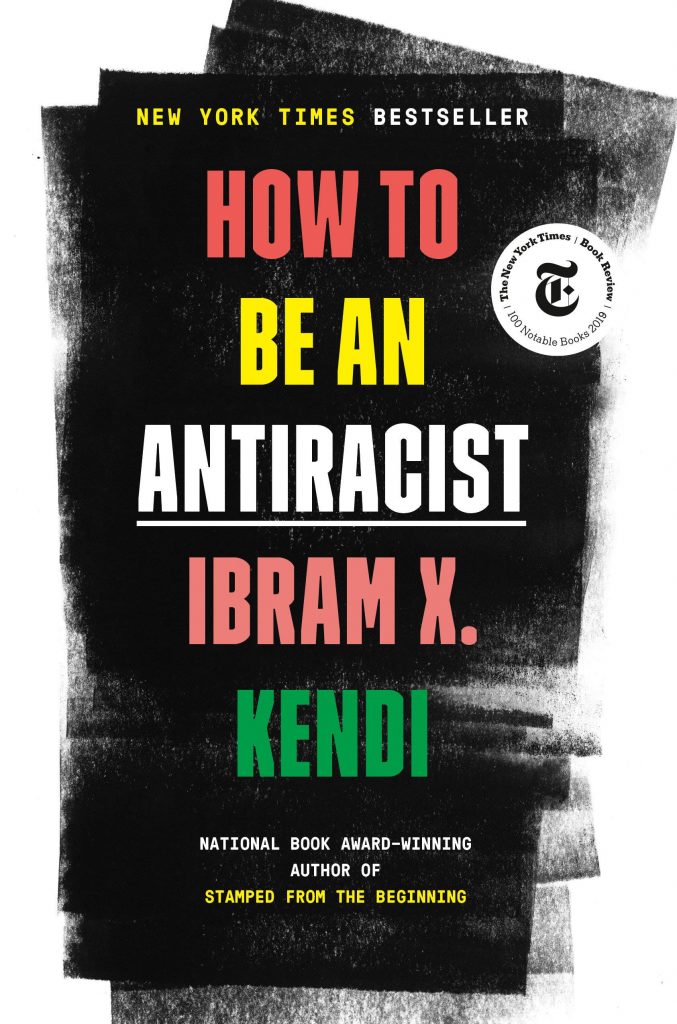 2. How  to Be an Antiracist by Ibram X. Kendi 
Antiracism is a transformative concept that reorients and reenergizes the conversation about racism—and, even more fundamentally, points us toward liberating new ways of thinking about ourselves and each other. At its core, racism is a powerful system that creates false hierarchies of human value; its warped logic extends beyond race, from the way we regard people of different ethnicities or skin colors to the way we treat people of different sexes, gender identities, and body types. Racism intersects with class and culture and geography and even changes the way we see and value ourselves. In How to Be an Antiracist, Kendi takes readers through a widening circle of antiracist ideas—from the most basic concepts to visionary possibilities—that will help readers see all forms of racism clearly, understand their poisonous consequences, and work to oppose them in our systems and in ourselves.

Kendi weaves an electrifying combination of ethics, history, law, and science with his own personal story of awakening to antiracism. This is an essential work for anyone who wants to go beyond the awareness of racism to the next step: contributing to the formation of a just and equitable society.
"We cannot change the cards we are dealt, just how we play the hand." ( Randy Pausch)
A lot of professors give talks entitled "The Last Lecture". Professors are asked to consider their demise and to ruminate on what matters most to them. And while they speak, audiences can't help but mull the same question: What wisdom would we impart to the world if we knew it was our last chance? If we had to vanish tomorrow, what would we want as our legacy?
When Randy Pausch, a computer science professor at Carnegie Mellon, was asked to give such a lecture, he didn't have to imagine it as his last, since he had recently been diagnosed with terminal cancer. But the lecture he gave – "Really Achieving Your Childhood Dreams" – wasn't about dying. It was about the importance of overcoming obstacles, of enabling the dreams of others, of seizing every moment (because "time is all you have…and you may find one day that you have less than you think"). It was a summation of everything Randy had come to believe. It was about living.
In this book, Randy Pausch has combined the humor, inspiration and intelligence that made his lecture such a phenomenon and given it an indelible form. It is a book that will be shared for generations to come.
Restoring Democracy in an Age of Populists and Pestilence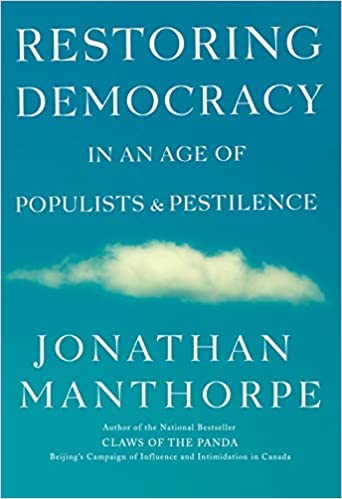 From the author of the Claws of the Panda, a Globe and Mail bestseller, Restoring Democracy is quite literally a book for our times.
Jonathan Manthorpe argues that democracy is more resilient than it appears, and is capable of overcoming the attacks from within and without that have sapped its vigour since the end of the Cold War. He begins with a description of the events of 1989, one of the seminal years in modern history. This saw the end of the Cold War, and the apparent conclusive victory of democracy and its civic values.
But the view of these changes as a triumph of democracy — as summed up in Francis Fukuyama's essay "The End of History" — was short-lived. Russia, shorn of its Soviet empire, and the Chinese Communist Party, re-examining its survival after the Tiananmen Square Massacre, began devising ways to counter-attack the West's triumphalism and these met with considerable success.
Internal pressures and contradictions — wealth disparity being chief among them — threaten the survival of many democratic systems. Abandoned industrial workers turn to the repeated platitudes designed to appeal to those left behind without actually offering them the ways and means to catch up. Immigrants, refugees, and the reformist fixations of isolated liberal elites have provided ammunition for would-be despots.
Adding to the pressures building on the political norms of our democracies, the COVID-19 pandemic has brought economic and social stand-still for which no country is prepared
Prey Immigration, Islam, and the Erosion of Women's Rights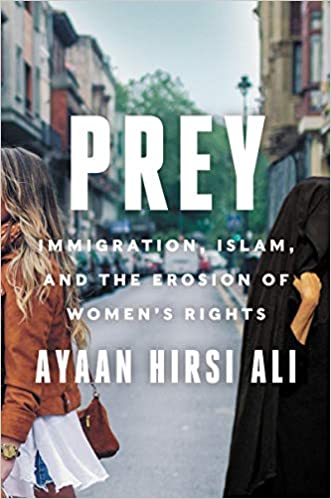 Why are so few people talking about the eruption of sexual violence and harassment in Europe's cities? No one in a position of power wants to admit that the problem is linked to the arrival of several million migrants—most of them young men—from Muslim-majority countries.
In Prey, the best-selling author of Infidel, Ayaan Hirsi Ali, presents startling statistics, criminal cases and personal testimony.  Among these facts: In 2014, sexual violence in Western Europe surged following a period of stability. In 2018 Germany, "offences against sexual self-determination" rose 36 percent from their 2014 rate; nearly two-fifths of the suspects were non-German. In Austria in 2017, asylum-seekers were suspects in 11 percent of all reported rapes and sexual harassment cases, despite making up less than 1 percent of the total population. 
This violence isn't a figment of alt-right propaganda, Hirsi Ali insists, even if neo-Nazis exaggerate it. It's a real problem that Europe—and the world—cannot continue to ignore. She explains why so many young Muslim men who arrive in Europe engage in sexual harassment and violence, tracing the roots of sexual violence in the Muslim world from institutionalized polygamy to the lack of legal and religious protections for women. 
A refugee herself, Hirsi Ali is not against immigration. As a child in Somalia, she suffered female genital mutilation; as a young girl in Saudi Arabia, she was made to feel acutely aware of her own vulnerability. Immigration, she argues, requires integration and assimilation. She wants Europeans to reform their broken system—and for Americans to learn from European mistakes. If this doesn't happen, the calls to exclude new Muslim migrants from Western countries will only grow louder. 
Deeply researched and featuring fresh and often shocking revelations, Prey uncovers a sexual assault and harassment crisis in Europe that is turning the clock on women's rights much further back than the #MeToo movement is advancing it
Pitch a book for next year's FreeThinker Book Club.
Make a Pitch for next year's Freethinkers' reads.  We hope each of us will come with a book to pitch for the coming year. If we meet the same  number of times next year as this year, we need to select 6 titles. I hope we will have more than 7 pitches ( pitch in eh!)
For your pitch – try to check access – public library, cost, audio and e-reader etc. It is really fun to read reviews (for and against) your pitch on Goodreads.com 
Of course it also helps to read the book, but as other nights- not necessary!